LTG Knowledge Base (KB) Search Tips
To find a knowledge base (KB) article, enter one or more keywords into the "Search the KB..." box at the top of the page, separating each word with a space. Then, click "Search" or press Enter / Return.
General Information
Use descriptive and specific keywords, make sure they are correctly spelled, and avoid unnecessary punctuation. If you are looking for an exact match, try using a phrase and enclose the phrase in quotation marks.
If searching using a single word yields too many unrelated topics, try adding another word or two. You may also use the drop-down menu to limit your search to one specific topic.
If you want to exclude documents that contain a certain keyword, you can focus your search by putting a minus sign ("-") in front of that word.

For example, email -outlook will find email documents that are not related to Outlook.

NOTE: The basic search functionality is set to only search titles and keywords. Full text search is available using the Advanced button.
Advanced Search
If standard search doesn't help, try Advanced search, which allows you to further tailor your query parameters to your needs. The advanced search can be accessed by clicking the button labelled "Advanced" directly to the right of the search button.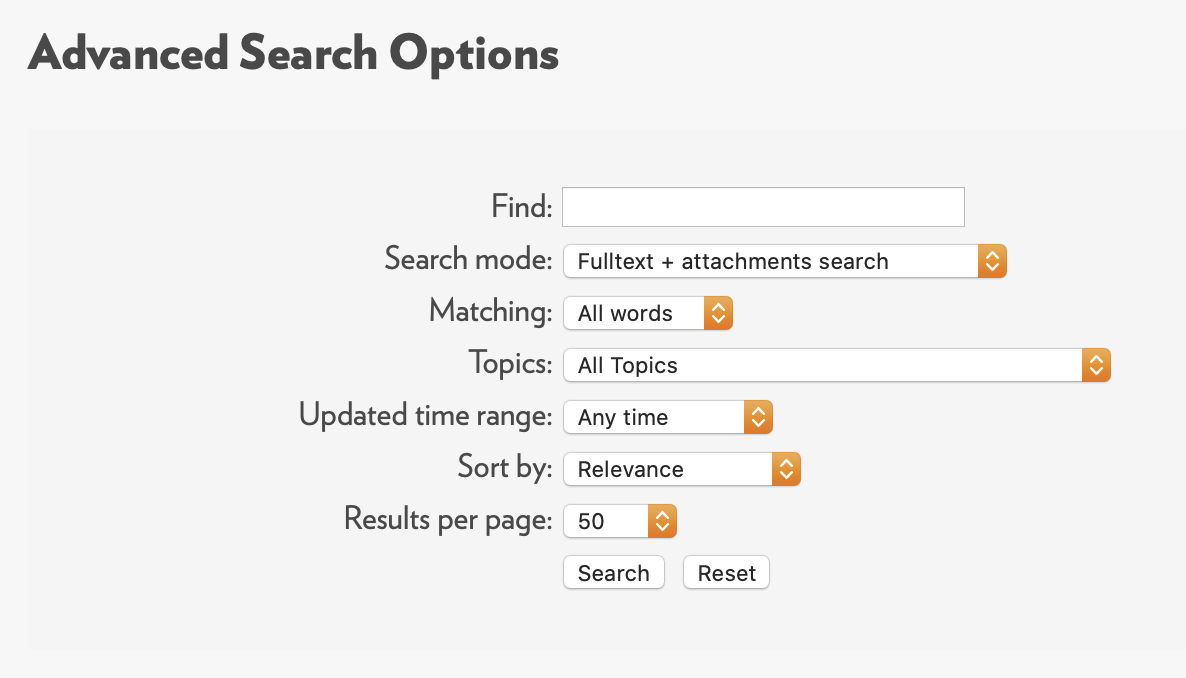 Using the advanced search you can use the drop down menu where "All words" is located and change it to "Any words", which will locate any articles that have those specific words in the order you type them.

For example, if you are looking for an article about admin passwords but the search returns too many articles, you can search "admin password" in the advanced search under "All words" and only articles that have the exact phrase "admin password" in the title will appear.

The advanced search also lets you search with more specific parameters like "Fulltext search", "Keywords search only", etc.
There are also other filters such as how recently the article was written, and how the found articles are sorted.