DoIT Departmental Support - Windows OS Deployment - Common Issues
This document covers common Windows OS Deployment service issues and their resolutions.
OS Deployment Media Doesn't Boot / Diagnostics Failed / No Hard Drive
The OS Deployment Media has built-in chipset, network and storage drivers in order to allow WinPE to boot and function enough to deploy Windows to the device. These drivers should be sufficient for most devices, and updating them requires creating and deploying new versions of the boot media so they are generally not updated unless someone runs into a particular device that isn't working.
For supported devices, this usually indicates some sort of hardware fault.
The screenshot below would be an example where WinPE was able to load, but did not find a network adapter. A machine with missing storage drivers would get past the diagnostics page but would just not have any hard drives you could pick.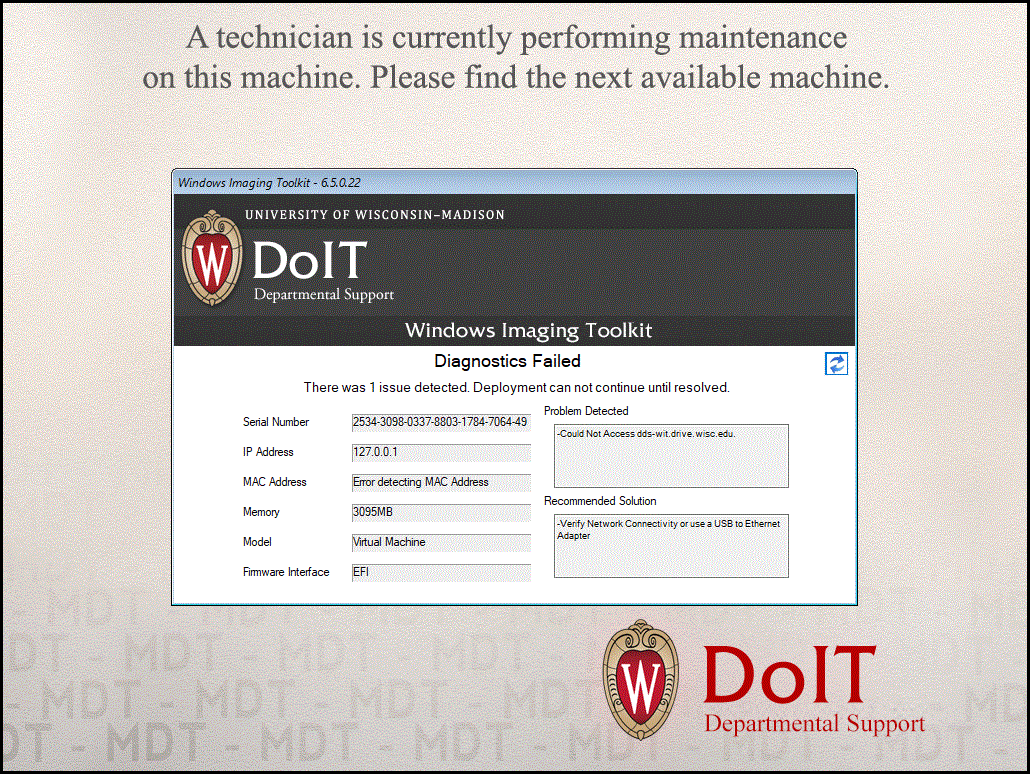 Troubleshooting Steps:
Confirm you are using the latest version of the Windows OS Deployment Media
If this is a newer model that you haven't imaged before, and you suspect drivers, contact us at doit-seam-support@doit.wisc.edu. We can build and provide newer boot media to confirm whether this is the issue.
For network issues, ensure a physical network connection to a UW network is present. Double check ports and cables and switches by plugging in other devices to diagnose connectivity issues. If possible, boot into an OS to more easily ensure that the machine is being assigned an IP.
Otherwise begin hardware troubleshooting steps.
First reboot after initiating deployment returns to Windows Deployment Toolkit login screen
In this scenario, the first time the system is rebooted after initiating the deployment workflow, it boots back to the Windows Deployment Toolkit login screen instead of booting to the hard drive to start windows setup and continue the imaging process. If you're PXE booting and not watching, it may default to Automation and then complain the computer isn't staged for automation.
Troubleshooting Steps:
Check the boot device order in the BIOS and confirm USB / PXE isn't set as the first boot device. Ideally with UEFI, the Windows installer should reorder things to that the Windows Boot Manager ends up on top after imaging, but this may not be the case with your particular BIOS setup.
If there is no option to boot to the hard drive, MDT may have simply failed to install windows properly. Reach out to osdeployment-wiscit@doit.wisc.edu for help troubleshooting.
Warnings or Errors on imaging completion screen / Missing broken software
Sometimes the scripts that we use to deploy software as part of imaging stop working. Either something changed in the installers or with the OS, or we moved something around or otherwise broke it.
Troubleshooting Steps:
Reach out to osdeployment-wiscit@doit.wisc.edu for help troubleshooting. These sorts of things are usually easy to sort out, but we don't know about them if you don't tell us.
Additional support options
---
If you are experiencing issues imaging a supported system, or you would like to request driver support for an unlisted system, please contact us at osdeployment-wiscit@doit.wisc.edu. Please provide the following information:
Computer make
Computer model
Computer serial number
Operating system you are attempting to deploy
A photo or screenshot of the error you are encountering if applicable
Any troubleshooting steps you have attempted, or additional relevant information
NOTE: if this is not a system on the supported hardware list T&M charges may apply.