Wisc Account Administration site - Delete a Service/Resource Account
This document explains how a domain administrator can delete an account within their domain.
Important: Once an account is deleted, all data within the account will also be deleted and cannot be restored/recovered.
Login to the Wisc Account Administration Utility with your NetID credentials.
Select or search for the account you want to delete.
Once you've accessed the account, open up the Account Administration tab in the left-hand column and choose Delete Account as pictured below: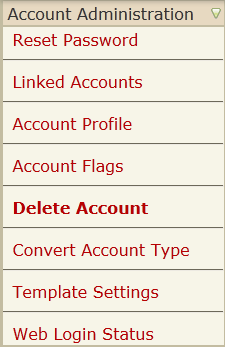 Once you've opened the Delete Account page, and you're absolutely sure you want to delete the account, select Yes, I want to delete this account from the two options listed as pictured below:
Note: You should have received a message indicating the account was successfully deleted! No further action is necessary at this time.