Bio-ARROW - General Help - Responding to Reviewer Notes
You will receive requests to modify your protocol in the form of reviewer notes. Click on
My Home
tab at the top of the screen to get to the
My Home
page. Your protocol will be in the
My Inbox
section and will indicate that Action is Required.
Once you enter the protocol workspace, Click on the
Review and Respond to Reviewer Notes
activity to address the requested changes: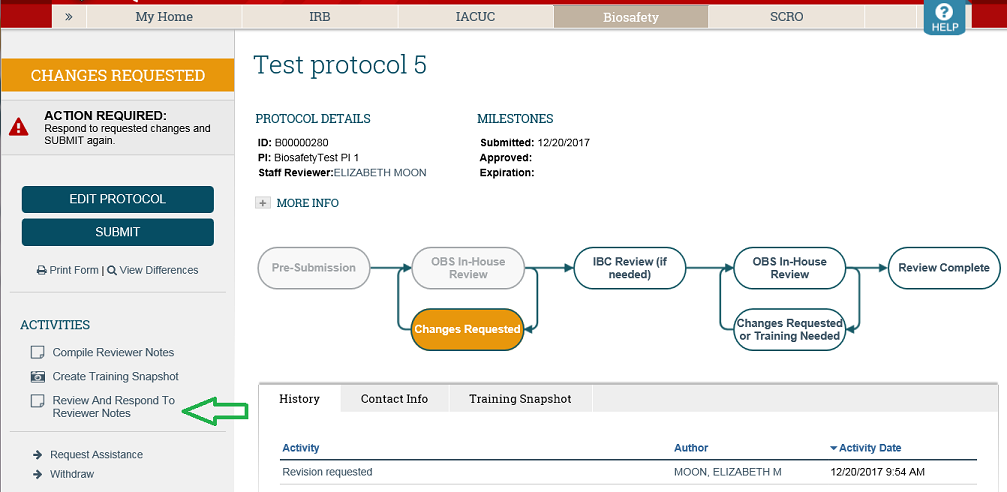 The reviewer notes will be displayed at the top of each page of the protocol and will direct you to change something on that particular page. Once you have made the requested modification to the protocol, you will need to respond to each reviewer note by clicking on the Click here to respond link: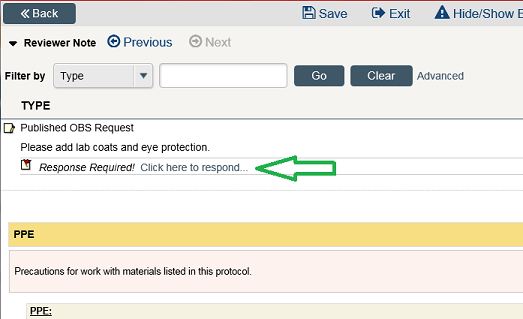 ARROW will not allow you to submit your protocol back to OBS until you have responded to each reviewer note. You can simply respond with "completed" or something to that effect. The PI and any read/write personnel are able to respond to reviewer notes. All reviewer notes must have a response before you can send the protocol back to OBS.
Still have questions? Call the Office of Biological Safety (OBS) at 608-263-2037. We are happy to help!!
See Also: