Office 365 (iOS 8) - Create a contact
Best Effort Support Only

This document contains instructions on using a non-Microsoft email client, such as Apple Mail or Thunderbird. Microsoft does not recommend these clients for use with Office 365, and there are often significant limitations in client functionality as a result.

Because of this, the DoIT Help Desk is only able to offer best effort support for these clients, and certain issues may require the use of a Microsoft client in order to be resolved. For more information on Office 365 client support, please see: Office 365 - Which clients/protocols will be supported?.
This document expalins how to create a new contact with an iOS 8 device (iPhone, iPad or iTouch). Contacts can be as basic as a name and email address, or include additional detailed information such as street address, multiple phone numbers, a picture, birthdays, and any other information that relates to the contact.
From Menu Screen
Click on the Contacts icon (a mini portrait).


Then select the + sign on the top.



This is what your screen will present, fill in all the information you wish to add.



After you fill out everything you want, hit Done in the top right corner.
Note: You can add multiple Emails or Phone Numbers for one contact by clicking on add address or add phone.



Now you are ready to email your new contact. You can do this directly by clicking on the email address from the screen shown above.


Or you can go to your email account and click the notepad for a new message. Then start typing the new contacts name, it should appear as displayed below and select the correct contact.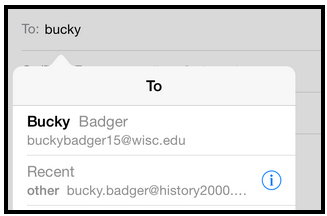 From an Email
Click on the Mail icon.
Select the email from the new user you would like to save to your contacts.
Click on the email address, you are given two options: Create New Contact or Add to Existing Contact (see below).
Note: To add the email address to a new contact choose the first option and to add it to an existing contact choose the second option.

Fill in the appropriate information and click Done in the top right corner.