Help Desk - I need my Campus ID/Wiscard number
Campus faculty, staff, students, and applicants can obtain their Wiscard number in the following ways.
Table of Contents
UW Faculty, Staff, Students
If you have a Wiscard, the Campus ID number is the number below your photo. In the image below, the Campus ID number of Bucky Badger is 0123456789.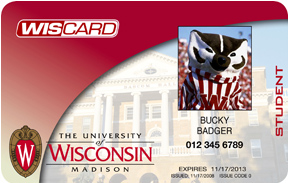 Faculty, staff, and students must go to the Wiscard office to obtain their ID number if they do not have a Wiscard. Note: The Wiscard office will not give out any information over the phone. You must go there in person with a valid form of photo identification to obtain a Campus ID number or Wiscard.
See http://www.wiscard.wisc.edu/contact.html for details.
If you are an off-campus student and need assistance with your Campus ID number, please contact the Office of the Registrar at (608) 262-3811 for assistance. Normal business hours are: Monday-Friday, 7:45 a.m. - 4:30 p.m. (excluding holidays).
If you are a Division of Extension or off-campus employee, please contact the DoIT Help Desk for additional assistance. Get Help from DoIT
Applicants
Applicants should have received a letter from the Admissions Office or an email titled "UW-Madison Application Confirmation", providing their UW Campus ID number. If an applicant needs their Campus ID number, please contact the appropriate Admissions office.
Undergraduate Admissions - 608-262-3961
Graduate Admissions - 608-262-2433
Additionally, Graduate Applicants may also log into their online application and scroll to the bottom of the page to obtain their Campus ID number.
Hospital Employees (UW Health)
As of 2019, Hospital employees who are not UW faculty, staff, or students use their UWHealth credentials to apply for parking instead of a NetID.
Hospital employees should use the UW Health login to apply for parking instead of the NetID login. Employees can apply on the transportation services page (https://transportation.wisc.edu/permits/) under the Permit Purchases section by clicking the Purchase a Parking Permit (EBusiness Portal) button.

When clicking the Employee or Student Login button on the next page, the user is prompted with both a NetID or UWHealth sign-on. Hospital Employees should use their UW Helath credentials to log in.
If a Hospital Employee does not know their UW Health credentials or has any issues logging in with the UW Health portal, please contact the UW Health Help Desk (608-265-7777).
Alumni
Most alumni request their Campus ID number in order to access transcript data. Alumni can use My Info to access much of their former student data. If you need access to My Info and don't remember your Campus ID number or PIN, you can go to My Info and click the link labeled 'Forgot Campus ID or Pin?'. You will then be able to log into My Info after providing alternate information.
In cases where Alumni forget their Campus ID number and need to reset their NetID / Office 365 email password, they can log into My Info to recover it. They will be redirected to an application called "Student Center." On the Student Center homepage they should click the box entitled "Academic Records". Then in the left column select "Request My Official Transcript". After clicking on "Request My Official Transcript", they will be brought to the Transcript Ordering Services page where they will click "Begin Order". On the next page, their Campus ID number should be auto-populated in the first field of the Order Form.
Lifelong Learners
Lifelong Learners do not have Campus ID numbers.
If a lifelong learner needs to recover their NetID or password, they should contact the DoIT Help Desk: Get Help from DoIT
See Also: