AEFIS - Eval Survey Template - Deleting a Survey Template (Admin)
This document describes how to delete a survey template in AEFIS. Only AEFIS administrators can modify survey templates.
AEFIS survey templates can be permanently deleted only if they have never been used to survey students. Survey templates that have previously been used cannot be deleted. Please note: In the latter case, the "Delete" command is still available to the AEFIS departmental administrator. However, instead of actually deleting the previously used survey template, AEFIS will only mark the template as "inactive".
Navigating to Survey Template Manager
Log into AEFIS with your NetID credentials.
Select the Menu button (three stacked lines) on the left side of the page to open the AEFIS main menu.
Select Survey Templates under Surveys.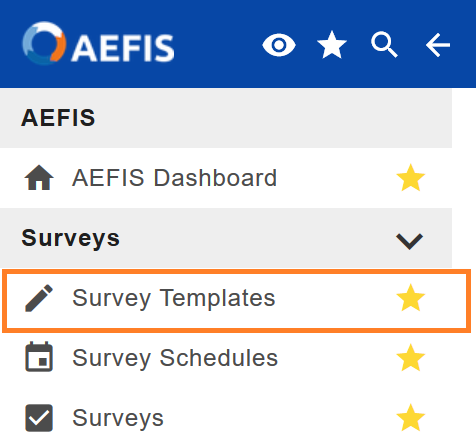 Deleting a Survey Template
After navigating to Survey Template Manager, find the survey template you wish to delete and select Manage.



Click Actions and select Delete Template.



You will be asked whether you wish to continue. Click Delete Survey Template.



Accessing Inactive Surveys
If a survey template has been used to survey students, the deletion process above will simply deactivate the survey. Inactive surveys can still be accessed by AEFIS administrators.
Navigate to Survey Template Manager.
Click + Add Filter and select Status.



Select Inactive.