Recording using CoE document cameras with BB Collaborate, Webex, Zoom...
Instructions to get the USB hub and CoE document camera working with collaboration software.
Web Collaboration Software, USB Microphone and Document Camera Rooms:
ECB 1003


ECB M1051 (CAE Lab)

EH 1227


EH 2239

EH 2261 (CAE Lab)

EH 2305

EH 2321

ME 1106

ME 1153

ME 1163


ME 1255 (CAE Lab)

ME 2109 (CAE Lab)

ME 3121

ME 3127

MSE 265


Wendt Commons 311

Wendt Commons 312

Wendt Commons 324

Wendt Commons 410 (WisCEL)



Recordings in these rooms are at your discretion.

You will need to provide a laptop for the recordings, except the CAE labs. In the CAE labs you will need to use the instructor computer for recording.
CAE labs will have the document camera, doc cam software, and microphone all ready installed on the system.
Connect USB hub to laptop


To connect your laptop to the USB system. Locate the USB hub on the podium near the document camera. You will need to choose between the standard USB cable and a USB-C cable. Check to ensure the cable you have plugged into your laptop is also connected to the USB hub. The cables are color coded to help identify them. The same colors need to be plugged in on both ends. (USB = Blue, USB-C = Orange).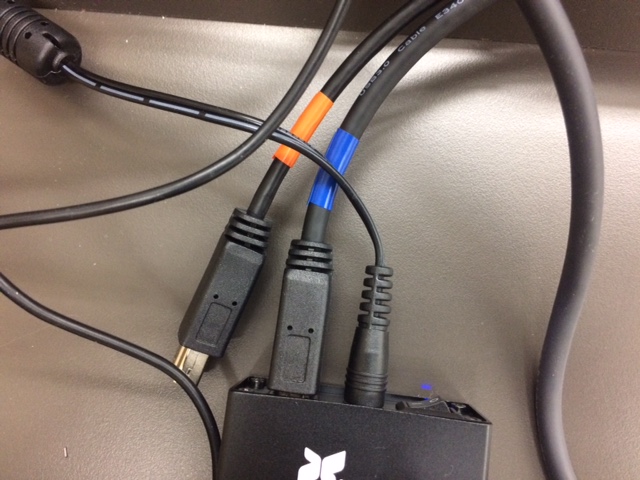 Select Microphone
Once you have connected to the USB hub, you will have the ability to utilize the table-top microphone located on the podium (NOTE: please stand within 3-5 ft for optimal audio).
In your software program select the appropriate microphone (there are a few brands we have deployed).
For rooms with a wireless audio system, you will be using a wireless transmitter pack that will provide asynchronous audio to both in person and remote viewers. When the USB is connected to your device, you can import the 'house audio' when choosing 'USB AUDIO CODEC' in either the software program or system preferences.





Using a Wolfvision document camera (VZ-9.4L, VSolution Cam, ...) and sharing your screen
Share your screen, don't use the camera as a default webcam
The goal here is to use the software below to display the connected document camera in full screen or near full screen. Then share your screen with the collaboration software. By sharing your screen you will get a high quality image sent to the participants. If you use the document camera as a webcam, it's resolution will be reduced and the quality won't be legible to the participants.
Windows Users:
You will need to install the Wolfvision Vsolution Link software before connecting to the web Collaboration software.
You are going to use the Vsolution Link software to show the document camera. Then you will need to share the document camera preview window on Collaborate.
Download the Wolfvision software from this UW Box folder:
This is a Windows only program at the moment.
Mac Users:
Mac users may get the document camera to show in 'Photo Booth' or another program.


Once you have the software running, increase the size of the image on your desktop.
Watch this video and follow these steps to share the Wolf document camera.
This software will work with Black Board Collaborate, Webex, Zoom or most web collaboration software.


Flipped Image in preview?
We have noticed in testing that doccam images will be flipped when previewing. This is actually fine. Most webcams are flipped so when you look at yourself, it seems correct like looking in a mirror. This is what it's doing that for the preview. I believe it should look correct on the remote end, at least that's what we were seeing in testing.


Using an USB IPEVO document camera (with build-in mic)
These were checked out and are not present in classrooms (Fall 2020)
The IPEVO document cameras have a built in mic that you can use with Collaborate if you wish. Just be aware that when you are playing with the camera the mic is picking up that sound and transmitting it to the connected guests. I would suggest muting your mic in Collaborate before adjusting the camera, then un-muting to continue.
Connect the camera to your computer's USB port.
Watch this video and follow these steps to share the IPEVO document camera
Contact Engineering Media Services at (608) 890-3325 or ems@engr.wisc.edu if you experience any technical issues.