Topics Map > Student Hourly Hire > Request CBC

Student Hourly - Request a Criminal Background Check
The hiring manager will work with the Administrative Services Unit (ASU) Office of Human Resources (OHR) to determine whether or not the appointment will be in a position of trust (POT). This will occur during the creation of the job requisition. ASU OHR will make the final determination regarding whether or not the appointment is a POT. If it is determined that this position requires a criminal background check (CBC) the applicant(s) will need to pass a CBC prior to being offered a job. The CBC will be conducted by ASU OHR.
Background
If it has been determined that your position requires a criminal background check (during the job creation stage) then your applicant must pass a background check before you can send the applicant a job offer.
The hiring manager must request a CBC by changing the applicant's status to "Background Check" and sending the email notification to the HR Representative, asu.hr@ohr.wisc.edu.
The Student Jobs Platform does not have any background check capabilities.
ASU OHR will know to initiate the background check when the notification is sent.
Background checks are processed through UW-Madison's third party provider, HireRight.
Refer to UW-Madison Criminal Background Check Policy
ASU will change the applicant's status to "Background Check Successful" and notify the hiring manager through a system notification to proceed with creating the offer if the applicant has passed the background check.
Instructions to Request a Background Check
Select the box next to the applicant(s) name you want to request the background check for. Then select the drop down under "Select a bulk Action" and chose "Bulk Move."
Select "Background Check"
"Background Check" status does not have the emails turned on for other users. To notify other users in the system you must select the "Yes" radio button and check the box next to "HR Representative."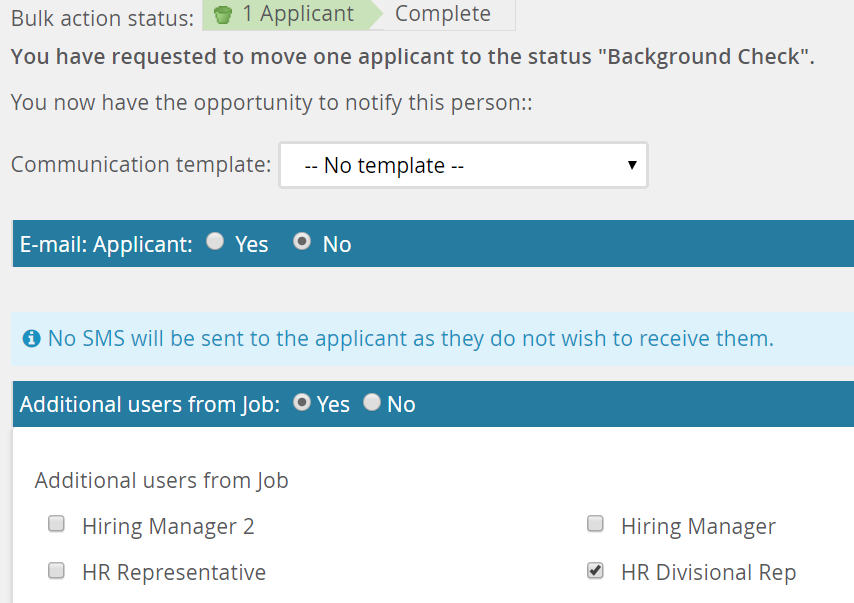 Select "Yes" next to "Update job status from Interviewing to Background checking." Click the "Move Now" button and it will move the applicant into the Background Check status.