Topics Map > General Support

Topics Map > Windows > Desktop Support

Topics Map > Mac > Desktop Support

CALSNet - Remote Desktop Connection to Your Office PC
Instructions for accessing your CALSNet desktop remotely
SERVICE REQUIREMENTS:
You must have a WiscVPN Static IP - see https://it.wisc.edu/services/static-ips/ . You can reserve a static IP for free at: https://techstore.doit.wisc.edu/vpn/login.asp


Remote Desktop Connection must be enabled on the office PC and the CALSNet firewall must be configured to allow the connection prior to first-time use.

NOTE: Supervisory approval may be required by ACS before these steps are taken.



Prior to first-time use, request Remote Desktop setup by ACS using the Installation > Software request form at: https://webhelpdesk.cals.wisc.edu Allow at least 2 work days before intended first use of the connection. ACS will provide your office PC's internet address that you will use to establish the remote connection. (This address may change when your office PC is replaced.)
Microsoft Remote Desktop Client & the Cisco AnyConnect or Palo Alto Global Protect software must be installed on your remote computer.

From your off-campus computer:
First establish a static WiscVPN session using the campus VPN (Cisco AnyConnect) client and your static IP username. This is necessary before you try to connect to your office computer. Instructions for installing the WiscVPN client are here: http://kb.wisc.edu/helpdesk/page.php?id=11997

Then choose All Programs | Accessories | Remote Desktop Connection and type in the IP address (see step 3 above) of your office computer.
Click the Connect button. Once the connection has been established you'll be prompted for your Windows username & password. Supply those and login as you would normally do on your office computer.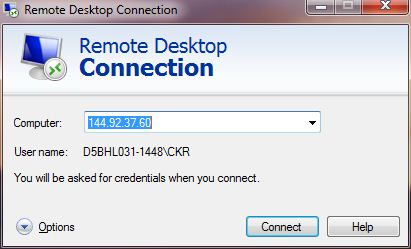 When Finished:

When you are finished using your office computer, be sure to "log off" rather than "disconnect" so that files are not left open on your office computer.