Topics Map > Canvas

Topics Map > Foundational Teaching Practices > Course Design

Recommendations for Modules in Canvas
Points to consider when creating modules for courses in Canvas
Use Modules.
Modules are units of organization within the course, generally with a hierarchical structure. They provide students with a path through the course content. Once students click into one activity in the Module, they will then get "Next" and "Back" links to move linearly through the Module. As you create your modules or adjust modules that were imported from D2L or Moodle, take the opportunity to consider how students will interact with those modules. You can organize modules by week, by topic, or whatever organizing principle makes the most sense for your course. Including a few key ingredients in your Modules will help students to adjust to your course and stay on top of the material.
Course rhythm: make this consistent and transparent to students

Identify tasks, due dates, and resources

Keep a clear pattern throughout the course

Relate expectations for the module rhythm in the Syllabus document

Set students up for success: use an introduction page for each module
At CEETE when migrating your Moodle or D2L course, we will add an introduction page to your first module.
Include learning objectives

Consider including the module's context in the larger structure of the course or students' careers

Eg. "The material covered in this module will also be tested on the Fundamentals of Engineering Exam"

Use clear module titles and text headers where appropriate

Use indentation to help organize packets of information or tasks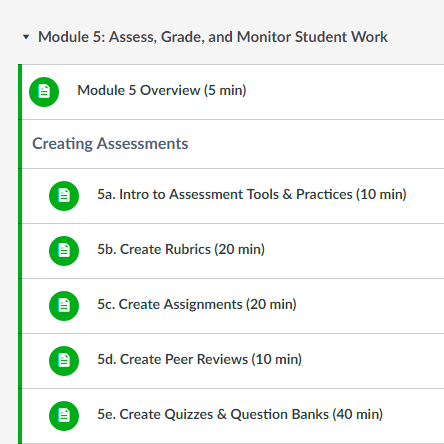 *Example from Canvas Instructor Training Course.
Control access to content by removing navigation to Files and Pages.
By default, students can access course content by clicking on Files, Pages, or Modules in the course navigation bar on the left side of the screen. We recommend disabling Files, Pages, Quizzes, and Assignments so that students access content in the most organized location and within the context you create using pages as modules. Pages is especially difficult to navigate, since it has no hierarchy at all. If your folders are well organized and you want students to be able to access them that way, you could make the Files link available. To display or hide navigation links, under Settings on the course navigation bar, click the Navigation tab. Click the settings wheel for each navigation item you wish to hide or drag it to the Hidden section. Remember to scroll down and hit Save, or your changes won't stick. See How do I reorder and hide Course Navigation Links? Files can still be made available at specific dates. See Controlling Item Visibility for more information about when students can or can't see files, modules, or other course items.
Control the pace of the course with locking, prerequisites, and/or requirements.
Do you want students to see all of the modules at once, or do you want them restricted by date/time? Do you want students to have to progress through module 1 before seeing module 2? Do they need to pass a quiz to access the next module? There are pros and cons to each of these decisions, so consider what is best for your situation. If the course is self-paced, locking modules by date won't work because students work through the course material at different speeds, but setting prerequisites might be helpful. If working ahead is problematic or you want to keep students focused on current discussion threads and deadlines, locking modules could be a good idea. Because it helps many students to see the big picture organization of the course, provide that information through the syllabus if specific content is locked.
Find out how to add prerequisites to a module.
Find out how to add requirements to a module.
Customize your modules using Pages.
A module could simply be a grouping of readings, links to media, links to discussions, etc. that students work through in sequence. While the organization of those steps is likely very clear to you, the instructor, it may not be so clear to students. Pages are a powerful feature of Canvas that allows you to group all of those items in one place and to add context around them. You could explain the objectives of the module (what are we learning), give links to additional or optional resources, add images, and/or embed Google documents. This provides clarity for students, makes the Modules display much cleaner, and gives you control over how that content is displayed. Browse through templates or create your own. If you know HTML, consider using the Canvas Style Guide to add columns, buttons, or icons.
Find out how to create content pages and files.
Find out how to customize your course layout. You can make modules your home page.