Canvas - Using Roll Call to take Attendance (UW)
Learn how to add the roll call tool for taking attendance to your Canvas course
In courses where instructors need to take attendance, either for a grade or for record-keeping, the Roll Call tool in Canvas can be added to your assignments.
Add Roll Call to your course
To add this tool, click Settings on the Course Navigation Bar.
Click the Navigation tab in the top center of the page.
Scroll down to the Attendance tool, and drag it into the top section, placing it where you want it in the course navigation bar.
Scroll down and click Save.
The first time you take attendance in the course, Canvas will add an Assignment called Roll Call Attendance to your Assignments and Grade Book.
Do not practice taking attendance before the course begins. If you mark someone present and then unmark them, Canvas will assign 0% to that student.
Edit the Roll Call Attendance assignment
To count attendance as part of students' grades, edit the categories and/or points associated with the assignment.
Adjust the points
assigned to the assignment as needed.
Set the weight
for the Assignment Group and double-check your other weights to make sure they total 100%.
If your course uses points instead of weights,
set the number of points
for the Roll Call Attendance assignment to the number of points you want assigned to attendance.
When marking attendance, Roll Call will assign students full credit for each day marked present and zero credit for each day marked absent. So, if you take attendance on 10 days, and a student is marked absent for one of them, they will receive 90% of the points assigned to the Roll Call Attendance Assignment.
Set the percentage for lateness
By default, students marked late receive 80% of the points. To change this value, open Roll Call by clicking the Attendance tab in the course navigation bar.
Click the Settings icon (gear) in the top right hand corner of the Roll Call window.

Move the slider to adjust the percentage points for lateness.


Consider Muting the Roll Call Attendance assignment
When grades are changed in Canvas, students receive a notification if the assignment is not muted. You may want to mute an assignment so that the notification is not sent each time you take attendance. From the default grade book view (when you click the Grades tab), hover over the Roll Call Assignment and click the triangle that appears.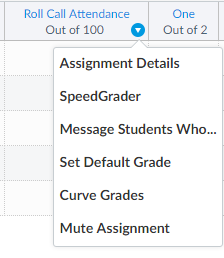 Then choose Mute Assignment from the menu. A mute icon will appear next to the assignment title. When you unmute an assignment, a warning message will display reminding you that a notification will be sent to all students. You may want to unmute and mute at regular intervals throughout the semester so that students are aware of and reminded to check their scores. Note that students may still be able to access their attendance graphs through the feedback URL of the muted assignment and/or the Assignments tab. Muting hides the percentage but not the raw data.