2018 Mexico Field Study Program
This webpage documents the Study Abroad trip to Mexico in the Summer of 2018.
Itinerary | Participants' Own Words | Participants' Preferred Photos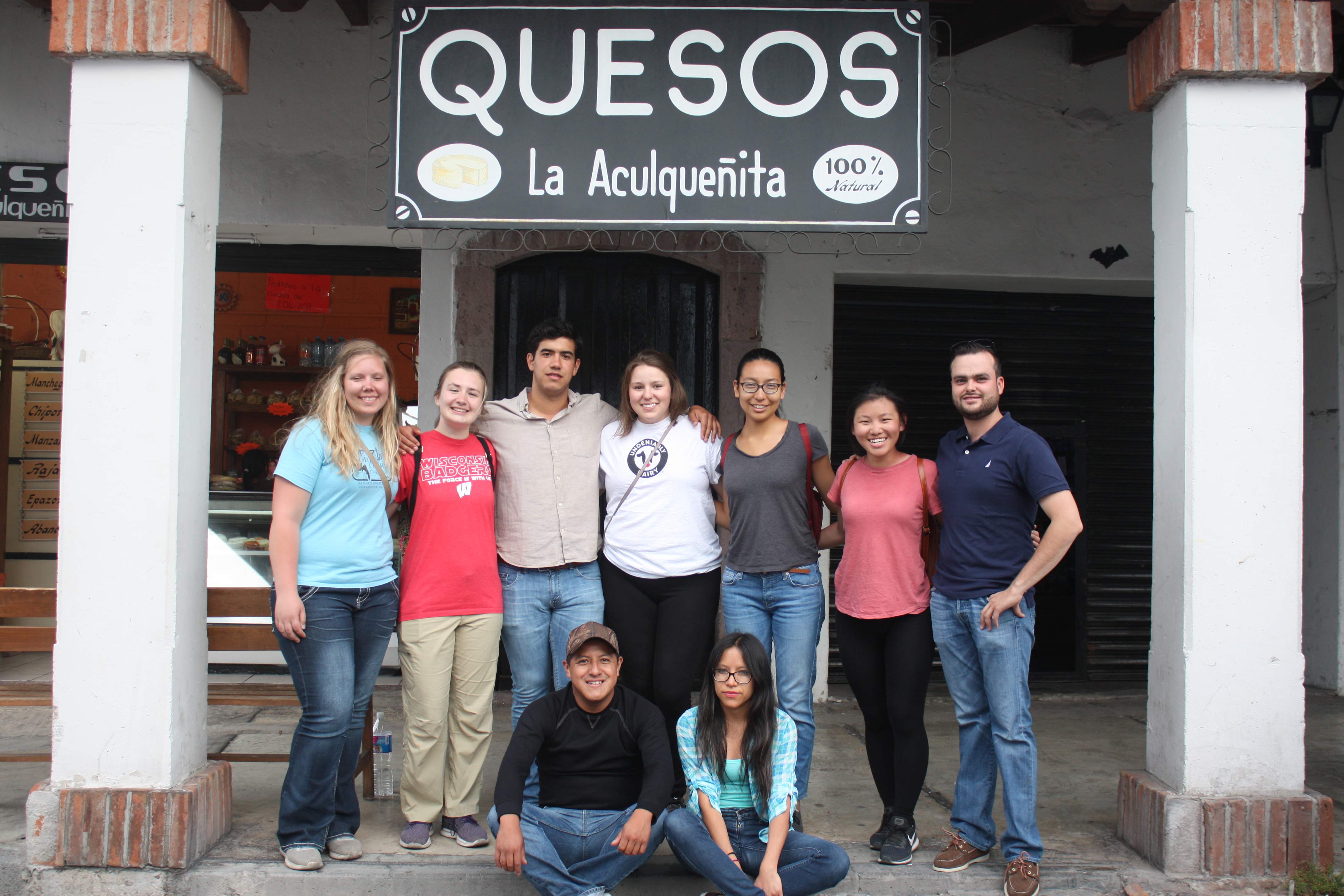 2018 Program Participants (Top row from left to right):
Danielle Warmka, Allie Hoerth, Alan Martin, Nicole Pralle, Kaori Torres, Janice Cheng, Diego Ramirez; (
Bottom row from left to right):
Fernando Prospero, Danaee Celis; (
Missing):
Michel Wattiaux, Juana Hernandez.
Itinerary
Day

AM

PM

Night
(Accommodation)

1

Travel to O'Hare and fly to Mexico City

Zócalo: National Palace and Cathedral
National Museum of Anthropology

Mexico City, Mexico D.F.

2

United States Department of Agriculture Foreign Agricultural Services (USDA-FAS)

Pyramids of Teotihuacán

Toluca, Estado de Mexico

3

Agua Blanca (Rural community on the slope of the Volcano of Toluca)

Coffee Farm (In San Andrés de los Gama, Temascaltepec)

Zacozanapan, Estado de Mexico

4

Chuco's farm (Tropical dairy, hand-milking and cheese-making farm in Zacozanapan)

Cosmovitral (A stained glass mural and botanical garden in Toluca)

Toluca, Estado de Mexico

5

Campesino Mazahua indigenous community (In San Filipe de Progreso, Estado de Mexico)

Aculco, Estado de Mexico

6

Small-holder dairy farm (Comparing cut-and-carry vs. pasture as dairy cattle feed near Aculco)

Lactéos Dianahi (Small-scale family cheese-making factory in Aculco)

Tequisquiapan, Querétaro

7

Flor de Alfalfa (Organic dairy farm with Jersey cows in Colón, Querétaro)

Historical Center of Querétaro (A UNESCO world cultural heritage site with 18th century Aqueducts, magnificent churches and monuments)

Querétaro, Querétaro

8

Cooperative small-scale dairy farms (From the Unión Cooperativa de Consuma Alteña (UCCA))

San Juan de Los Lagos, Jalisco

9

PROAN (A large production facility including a feed mill, packaging plant, bakery unit, industrial-scale dairy farming, bio-digestors and many more)

San Juan de Los Lagos, Jalisco

10

Centro Universitario de Los Altos (CuAltos) (A presentation at the University Center of Los Altosin Tepatitlán about Health Care in Los Altos)

PROLEA (A dairy cooperative of "small" dairy producers in Acatic)

Autlán de Navarro, Jalisco

11

Las Joyas Biosphere Reserve

Nature walk on pristine trails (To see native Teocintle (ancestor of modern corn))

Mountain Biosphere Reserve, Jalisco

12

Tropical Fruit Tree Research Station (Associated with Instituto Nacional Investigación Forestal y Agro-Pecuaria (INIFAP))

Manzanillo (Port City), Colima

13

Purnte Quemado ranch (A silver-pastoralism beef production near Colima)

Ejido Fernandez (A dual-purpose cattle production farm)

Manzanillo (Port City), Colima

14

Guadalajara historical center (Includes Orozco's murals, Mercado La Libertad (an open indoor/outdoor market) and the Cathedral)

Guadalajara, Jalisco

15

Depart from Guadalajara to Madison
---
In Participants' Own Words:
Read participant's stories about one of their favorite visits!
---
Allie Hoerth
Calf from PROLEA


I think this picture of this calf was not only very cute but also shows the space the calves are kept in at this co-op. I found it interesting that the designer of the space created it like a pig house so that feces would be in less direct contact with the calve. This was also the first step of many in their heifer raising faculty which was quite impressive in order to help members of the coop who do not have the resources to properly raise their heifers.

The group in the pool in Manzanillo
This picture is the only group picture I have one my phone from the trip (even though Juanita isn't in it!) This was my first time being to the beach, so having the experience with my new friends was one I will never forget. This picture reminds me how important everyone on this trip was for me to learn more about Mexico and the agriculture systems within it.

Fake papel picado in Queretaro streets
When walking down the streets of Queretaro for the first time, these banners were the first thing I saw and reminded me of the Disney movie Coco that was recently released. I was told that these ones were just for decoration and made of plastic. Usually, they made of paper and commonly displayed during holidays such as Day of the Dead.

Troublemakers and Ricardo in Aculco
This picture needs a lot of context. Kaori has this stuffed sloth, named Ricardo, that she takes pictures withto send to her friends from Miami. Due to Kaori's phone not working, my phone is now filled with the photos of Ricardo, making this one my favorite among the many. I also enjoyed visiting this city and seeing the many cheese stores in the white-painted town.

Cosmovitral in Toluca
This is the nicest picture I took in Mexico (besides the man also being in the picture.) Due to this visit not being fully planned, I didn't have many expectations, but I was very impressed by the glass murals and the botanical garden inside. I enjoyed looking at all the different plant species and art on the walls.
Danielle Warmka
This is a picture from the farm we visited during the first cooperative tour. This was the first farm that we visited that had over 100 cows and a free stall barn set up. This picture is important to me because it is their current operation, but it would also be something you can see in the Wisconsin dairy industry history of how we used to milk cows. It shows the feed areas in the front to entice the cows to go into the stall and it shows the milking machines hanging next to each one. This picture also tells me that they have become one step closer to a more efficient dairy operation. Even though it still takes them a long time to milk the cows, they are definitely more advanced than some of the other farms that we visited.

This picture will forever remind me of how beautiful Mexico can be. With the endless color of flowers and water fountains in centered in beautiful places. This picture was taken at the place we had a complimentary dinner after visiting PROAN. It was one of my most favorite days in Mexico because of the joyous time we had at dinner, talking about our day, and after dinner when we were able to play around like kids. This picture reminds me of a place where I was extremely happy and grateful for my opportunity to go to Mexico.

This is a picture of the Pyramid of the Sun at Teotihuacan. We took this trip on our second day in Mexico and going to the pyramids really allowed me to see the Mexican history and culture first hand. We went to the Museum of Anthropology and learned of the Mexican history, but nothing can compare to seeing it first and hand. It really allows you to believe the stories that we were told. Being able to climb to the top is also an accomplishment that I will remember. (We had to stop to catch our breath multiple times, haha!)

This was the first farm with a milking machine that we visited. It was a small-scale farm that raised their cows on pasture, but would bring them in to milk them. This machine was electric powered and two milking units. You could tell the farmer was very proud that he had a milking machine and how it has helped him to become more efficient. It was also interesting to hear that the government had helped him purchase the machine. I was able to relate this back to what I had learned in class about farmers in developing countries debating on whether or not to invest in a milking machine. Because of the governmental help, he was able to cut the cost of the machine almost in half! The original cost was 30,000 pesos.

This picture was taken in the Mazahua Community. I liked this picture because it shows a woman who has taken what the government helped her buy, and shows how she has been able to successful grow crops and be progressive. In this community, there were people who didn't necessarily accept the help from the government, but then you have this very hard working and passionate woman taking what she is given and making the most of it. She is working to be productive, progressive, and as profitable as she can be. She understands how important it is to be sustainable and have enough food on the table. She was inspiring to learn from and how much knowledge she had from learning by doing.
Janice Cheng
This photo reminds me of the value of friendship. I made some pretty amazing friends despite having only known them for 2 weeks. Our ride in the back of this pickup truck to the biosphere reserve was also a great experience despite the sand and dust getting all over our clothes and hair. I would've included Alan, Diego, Juanita and Danaee in the photo if I had all of us in one good photo, but I don't, so this would have to do.

The number of churches we drive by or walk past in Mexico caught my attention. It made me realize that the church is the one place where the rich and the poor still go to despite their differences. The people need something to hold on to during hard times and chose to believe in religion as it gives them hope. While Mexico's rich history of Catholics is the reason so many churches were built, it is definitely the people's continual believe in the church which kept the churches standing strong.

This photo reminds me of a common landscape in my home country, Malaysia. Just as paddy fields are the representation of agriculture in Malaysia, maize plantations are the representation of Mexico. When I first saw this landscape, I think of the manual labour that had to be put in to plant these plants. It reminds me to appreciate what the life I have.

I really liked this photo due to the history behind it. It also shows how fast mankind advances through time. To think that man lifted all those stone and built them with bare hands and no machinery is a wonder. I think of how magnificent this structure would have looked like when it was built and still had a temple siting at the top of the pyramid. The celebrations and sacrifices that this pyramid has seen is probably countless and this is the only memory that remains of it.

This photo reminds me of my first wine and cheese tasting. I have never had cheese paired with wine and I thought it was a great experience. I sort of wished that the host explained the reason a cheese went well with a certain wine instead of just which wine went with which cheese. I think there are many more thing to learn in cheese and wine tasting and I look forward to learning more about this in the futre.
Kaori Torres
The warm colors and size of Jose Clemente Orozco's mural in Palacio de Gobierno de Guadalajara made the piece powerful in person. This mural, called "The People and Its Leaders," is located above the main staircase. It is an image of the revolutionary leader holding a flaming torch to start the independence movement. This mural, as other murals painted by him and great muralists helped the Mexicans learn about their history visually as most were illiterate.

I learned that tamales are steamed, oven roasted, fire roasted, toasted, grilled, barbecued, fried or boiled. Tamales can be made with basically anything, from sweet to sour. This specific tamale is a sweet, raisin flavored tamale bought from the market in Queretaro for breakfast.

In Agua Blanca, we were able to enter Isidra's ice cream building where we saw the simple machine where he created his various ice cream. His sons drive hours to town to sell this ice cream everyday. He is the only one who actually made use of the government's ice cream making lessons. He was the only one who trusted the government when there was the chance. It was a little disappointing not being able to try his ice cream however it was worth not getting sick. This is one example out of many where we were restricted from trying local food because of our lower immunity.

We visited many of Don Olegario's neighbors in Mazahua Indigenous Campesino Community. There is one of his neighbors who was very excited to show and teach us how he manages his farm. He even happily displayed for us how to put on the tools on the horse. I chose this image because looking at his smile in this picture, I saw how truly happy he was to show us around. His kindness was like everyone else we met during our trip in Mexico.

This was the only picture we could take in PROAN's new pig slaughter. I was fascinated by how organized their industry was. The owner is willing to send his workers to travel around the world to find the best equipment and methods for his industry making me curious whether most other large companies do the same.
Nicole Pralle
It was amazing to be able to walk in such a historic place (pyramids of Teothiuacan) and to learn more in depth history about Mexico.

Staying in this Tequisquiapan was one of my favorite towns to visit, it had a great atmosphere




There is no better way to bond than to climb up a very tall temple, under the hot mexican sun.

I loved being able to try out cutting hay. It helped me take a glimpse into other farmers lives.

I really like visiting chucho's farm and learning how he used the land in unique ways to take care of his cattle.