ECMS - How to configure PaperStream IP to use patch codes with the Perceptive Content Client
This document describes how to configure PaperStream IP to use patchcodes with the Perceptive Content Client
When configuring a scanner to use patch codes with Paperstream IP, perform the following steps to ensure all pages of the document are captured and the patch code is removed properly:
Log in to the Perceptive Content Client with an account that can manage scanning profiles.
Click Settings in the menu bar, and then click Options.
In the left pane, click Capture, and then click Manage Profile List under Scanning Profiles.
Click the desired scanning profile, and then click Modify.
Click the Advanced tab, and then click Modify.
Add the Image Processing actions in the following order, and then click OK.

Blank Page Detection
Border Removal
Patchcode Detection




Note: For duplex scanning, enable these settings for both the

Front Back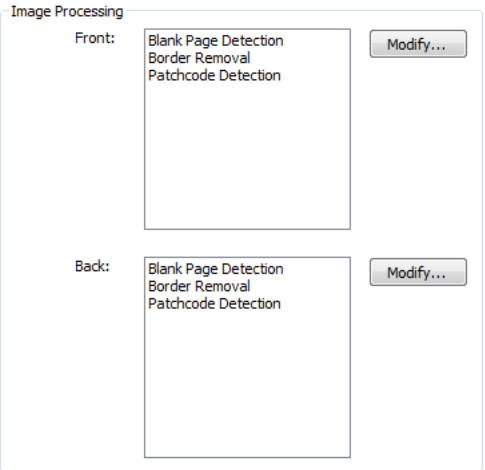 Select the Display TWAIN property dialog at scan time check box, and then click OK.

Scan a test document into Perceptive Content to generate the PaperStream IP (TWAIN) window.
Click the arrows icon() to open the advanced settings window.
Click Page in the left pane. Click Blank Page Detection to expand the options, and then click Off.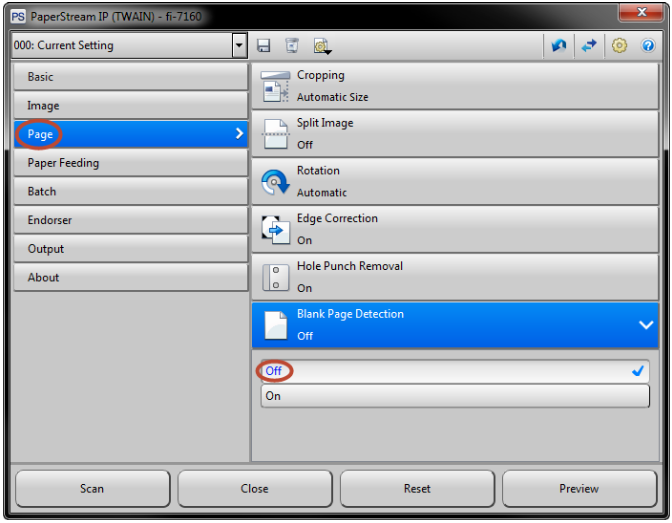 Click Close to save the changes.

Note: Clear the Display TWAIN property dialog at the scan time check box selected in step six to disable the TWAIN window popup after each scan.