Topics Map > Eloqua > General

Topics Map > Eloqua > Campaigns > Simple

Topics Map > Eloqua > Assets > Emails

Topics Map > Eloqua > Audience > Segments

Topics Map > Eloqua > Assets > Components > Email Header

Topics Map > Eloqua > Assets > Components > Email Footer

Create Eloqua Email Campaign (Basic Steps)
Set Up Your First Eloqua Email Send
*Note: these instructions are meant to complement your initial training, not take the place of it. Write to marketingautomation@wisc.edu to schedule training.
Navigate to Emails in Eloqua: https://secure.p04.eloqua.com/Main.aspx#emails
Choose Create an Email or Upload an Email.

Choose the type of email you would like to create.

If you'd like to start fresh, choose, "Blank Responsive." If working with a template or html, make your selection accordingly.

You will see an Email Settings modal appear.
Choose a subject line and preview text. Preview text is not required, but subject lines are. You can update the Subject line now, or wait until later. You can adjust these fields up until the time you send.
Choose an Email Group that represents the type of email you are sending. Remember, the Email Group is a topic or type of content, not a list. You want to ensure your email is categorized with the correct Email Group, so the footer (and its linked subscription options) is correct. This also prevents you from sending to contacts who have opted out of this topic category of email. Your email group choice will also populate the default header and footer for your email.
Update the Sender Name and Sender Email Address. Remember, these should match what your organization has decided to use.
The Sender Name should be yours or your department's... (Do not use a fictitious name or group), whether it's an organization or a person.


CHANGE the Sender Email Address to: [your topic/department]@explore.wisc.edu
i.e. DoIT@explore.wisc.edu or union@explore.wisc.edu.
*Remember you want to customize the first part with what your organization has decided to use, but always keep the suffix @explore.wisc.edu in our shared UW-Madison system.


Set your Reply-to Name and Reply-to Address. Remember, whomever you put in these fields will receive the replies to this email. If someone hits reply when they get this email, who would you like to receive and monitor that message? The email address can be a person's address or a shared/service mailbox, but it should be a real inbox that receives mail (that is being checked). You MUST change this. If you do not change this and someone replies to your email it will go to the EloquaReply@wisc.edu email that is not monitored on a regular basis.

Ensure the rest of the settings are the defaults/originals. Bounceback Address, Virtual MTA, Encoding and the rest of the settings have already been set up correctly. You can double-check that no one changed the settings by comparing them with the Email Settings KB article.
Click, "Design Email" to proceed.
Use the Design Editor to Create Your Content (Upload HTML, or copy/save as a previous email). Drag and drop layouts and the type of content you need to create your organization's email style. Add any/all content: text, images, etc. For instruction on using the Eloqua design editor, see the Oracle Eloqua Design Editor YouTube Video.

Header and Footer: Your Marketing Automation Team has assigned a default header and footer that automatically get assigned when you choose the Email Group. If you'd like to assign a different footer (it is recommended you keep the default header: UW-MadisonDefault_DO_NOT_MODIFY ), click "Footer Component" to assign a new default footer for your email group unless you have a different specific need and the MA Team has addressed it with a specific footer.
Test Your Email. Navigate to Actions > Send Test to send a test send. In the blue window that appears, leave all settings alone, but enter the email address(es) you want to send to in the blank field To: field and select HTML Email or Text Email. Then click Perform Test. If you want to send a test to multiple email addresses, separate them with a comma. Note you must have added any email address you want to test send to the Eloqua database with your contact label. Test sending to different email accounts, browsers or apps, and devices will help you check your email's formatting.
Save in your department or program's specific email folder or sub folder.
To create a new segment (group of people to mail to), navigate to Contacts>Segments, then "Blank Segment." The segment is essentially a way to choose recipients with shared contact attributes, or a way to pull in various contacts and their attributes so they can receive a relevant email based on the data you have in Eloqua.


Click on the + symbol to choose how to import your Segment members. "Upload Contacts" is the method to bring in new recipients via a MS Excel spreadsheet. Be sure to include at minimum a list of complete email addresses and a column indicating they should be assigned your department's contact label. See more information here on formatting your Contacts upload spreadsheet. You can also add recipients via a shared list or other options.
To bring email group subscribers into your segment, you can choose the + sign again and choose the Filter Criteria option. Choose "subscribed to Groups from the right navigation panel.
Double click on it to choose a specific email list that belongs to your department or program. Upon sending, Eloqua will automatically take out anyone who has opted out of your Email Group, but it will not add in new subscribers unless you add that filter to your segment. Please contact marketingautomation@wisc.edu if you need help setting up a Subscribed to Groups filter.
Add yourself (and any other internal recipients) to your Segment. Remember that any contacts you want to send to need to have your user group's contact label. You also want to ensure your Email Group subscription status is set to subscribed.
Choose each of your segment's components "and/or" status, as well as "included/excluded" status. If you are using filter criteria, make sure that you are including or excluding the contacts you want to.
Check your Segment's final count number against your expectations. Remember Eloqua will de-duplicate email addresses that are included more than once.
Here is an example of a segment with multiple facets:
Creating a campaign is the final step that brings all of the above elements together to send your email.
Navigate to Orchestrate>Campaigns. Then "Create a Simple Email Campaign."


Save and Name your campaign something meaningful and in a folder that pertains to your department or program. If you have 300 campaigns called Untitled Campaign, you may not be effective or accurate in your Eloqua use.
Assign the segment you created in the step before this or select "create a new segment" to take care of this now.
Select the email you would like to send out. The segment name and email name are links. You can click them to open and make edits on them in a new tabs. Save any changes you make and close the tab to return to enacting your Campaign.
*In the Advanced Sending Options, be sure you DO NOT enable the "Include List Unsubscribe Header" option. This will give the recipients the option to globally unsubscribe from Eloqua.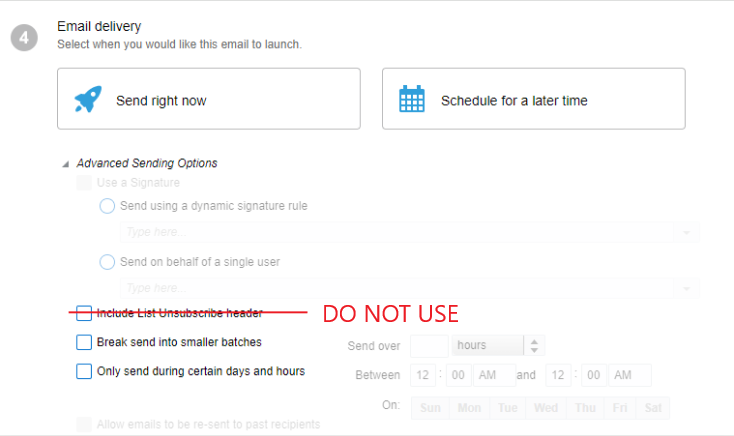 Send now or schedule it to send later. Be sure to Save and Activate! Just saving your Campaign saves your progress and access. It does not cause it to send or schedule. If you don't see the campaign funnel statistics graphic appear, you may not have activated the campaign yet.
Check Campaign Statistics. After activation, return to the campaign you just activated to see the overview statistics. And keep in mind each campaign, email and segment have unique URLs to help you find them and share them in the future.
Would you like someone to check over your send? Send an email to the MA Team to request a quick meeting time.