UW-Madison Google Workspace - How to transfer ownership of a Google Analytics account
This document provides instructions to allow users to transfer ownership of a Google analytics account to another account.
If you are a new user you will have to click the Sign-up button on the right-hand side of the page.




To add a new site, fill out all of the conditions, and click Get Tracking ID.
If you already have a Google Analytic account but would like to add another site, click the ribbon menu, and go to Admin. In this section, you can click the Account tab and view all sites, below your last site click Create new account.


Accept the Google Analytics Terms of Service Agreement to continue.


In the ribbon menu find the Admin button and select it.


Scroll down until you see Property and select User Managment.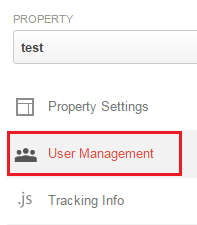 To the right, you can choose which type of access you would like to give the new user. After you are done select Add.
Note: If you give the new user Manager Users and Edit permissions, they will be able to delete you from accessing the analytics on this site.


The new user will show up in the Email and Property Permissions section.


You have now successfully added a user to a Google Analytics account.