Guide: Editing for the Fall 2022 (June 1, 2022) edition
Information about how to update the Guide for the Fall 2022 edition publication.
The
Guide
is our campus's catalog and primary source for program information, requirements, and policies. Because it is the catalog, it is a relatively static document that can only be updated a couple times a year. Additionally, there are a few different types of content in the
Guide
which have different processes for being updated.
This document attempts to explain:
History and Context

Guide is one component of a broader suite of tools that fall under the campus-branded umbrella name "Lumen." Faculty and staff can view some components of Lumen in the My UW Lumen widget. Guide is the front-facing publication that reflects changes made in Lumen to programs, courses, and other changes available through Lumen tools like Lumen Course Proposals, Lumen Program Proposals, and Lumen Structure Proposals (this last one not typically used by anyone outside of school/college dean's offices).
Our campus is using these tools for updating our catalog because:
Lumen tools are fully integrated with each other, as well as with data in SIS and HRS.
Lumen tools contain an "Approval Workflow," which requires the approval of each relevant governance body before a change can be published.
This ensures that the programs included in our catalog (Guide) are always kept up-to-date and accurate, and also that the information about those programs has been approved according to our institutional and UW System shared governance requirements.
Types of Content
There is a wide range of content in the Guide. This KB will focus specifically on the content on the following pages in the "Graduate" Guide:
This document is only about the "Graduate" side of the Guide; questions about undergraduate or other content should be directed to the appropriate School/College Guide Coordinator or Academic Planner.
Each page has different sections, which are referred to as "tabs" because they appear as navigational tabs:
Some program pages may also have "Accreditation" or "Certification/Licensure" tabs.
Below the navigational tabs, every page also has a Contact Information Box: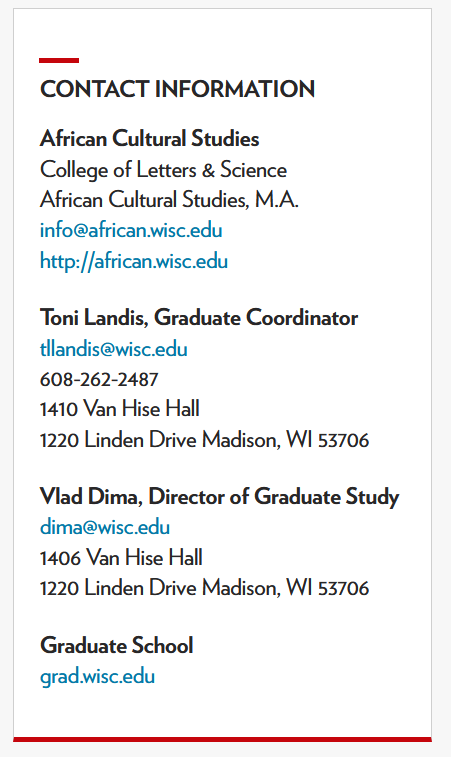 There are three "types" of content within these navigational tabs and the contact information box:
| | | |
| --- | --- | --- |
| Governed Content | Non-Governed Content | Directory Information |
| Admissions | Overview | Professional Development |
| Requirements | Funding | People |
| Policies | Professional Development | Contact Information |
| Learning Outcomes | People | |
| Accreditation (if applicable) | Contact Information | |
| Certification/Licensure (if applicable) | | |
As you may notice, Directory Information is also included within Non-Governed Content. This is because it is also considered Non-Governed Content, but we separate it here because it has distinct deadlines and update processes discussed in greater detail in a section below.
What do the names of these different types of content mean?

Directory Information is likely self-explanatory: it contains information about people associated with the program.
Governed and Non-Governed is more complicated. As mentioned, part of the appeal of Lumen tools is that they allow for the appropriate shared governance body to approve course, program, and other changes in the catalog (Guide).
Therefore, Governed Content is that content which our institution has determined requires all steps of this approval, from the Department/Program Faculty Executive Committee to the University Academic Planning Council, and sometimes beyond.
Non-Governed Content does not require these steps of approval; instead, it is reviewed only for accuracy and compliance with university policy and expectations by a School or College Guide Coordinator. For the Graduate School, that is Emily Reynolds.
Note that pages for Doctoral Minors, Graduate/Professional Certificates, and Capstone Certificates typically contain a smaller portion of the navigational tabs than Degree/Major pages. For example, some Doctoral Minor pages may only contain Requirements, People, and Contact Information. To view every possible tab available for every award type, refer to the "Guide: Tab Structure" article in the Lumen KB. To see guidelines for what content should be on each tab, see "Guide: Content Requirements by Tab".

Access
Just as there are different types of content in Guide, there are different ways to gain access to edit each type.
Governed Content
To facilitate the approval process through the many steps of shared governance, Governed Content is edited using Lumen Program Proposals. Every faculty and staff member whose appointment is within a department or administrative unit that contains academic programs automatically has access to view and edit in this system. In these cases, no further action is needed on your part to gain access to edit Governed Content.
However, you may also wish to acquire the ability to approve changes on behalf of your department or program. You can request that access (as well as access to Lumen Course Proposals) using this Qualtrics survey form, which is reviewed and approved by Academic Planner, Michelle Young, in Academic Planning and Institutional Research. You can also use this form to request access be revoked. Please note that all Department Chairs will automatically be given Approver access for their department, and they are the person who must approve that access for others.
Non-Governed Content
Non-Governed Content in Guide is edited in a development environment of the Guide at this URL: next-guide.wisc.edu
Unlike Governed Content, access to "next-Guide" must be individually granted. To request editing access, please fill out this Qualtrics survey form. For graduate programs, Graduate Guide Coordinator Emily Reynolds then approves all requests.
Before requesting editor access, please check the spreadsheet at this Google Drive link (use your @wisc.edu account to login) to confirm you do not already have access. Note this spreadsheet's data was compiled on October 13, 2020, so access requests made after it do not appear.
When requesting editor access, note that you will be requesting access to all pages associated with your department or administrative unit, rather than individual program pages. There is no way to restrict access below the department/unit level.
To revoke editing access to Non-Governed Content, please email the Graduate School's Academic Planning PA and specify the person and pages where access should be revoked.
Directory Information
As Directory Information is included within Non-Governed Content, editing access is granted the same way. However, because it is Directory Information, it can also be edited at any time of year. Note that outside of the typical editing cycle window (discussed below), only the Registrar's Office has access to make those edits. Please email the Graduate School's Academic Planning PA to request changes to Directory Information.
Deadlines
This section refers only to the deadlines for content that is effective for Fall 2022, which will publish in Guide on June 1, 2022.
Governed Content
Authorized users (faculty and staff in academic departments/units) may edit program information at any time of year using Lumen Program Proposals. When editing the proposal, select "Fall 2022" from the drop-down menu near the top.
Remember that proposals must be approved through several steps of shared governance. Every School and College has its own deadlines for receiving proposals to approve at the School/College level. While these deadlines typically fall between January 2022 and April 1, 2022, please contact your School/College Dean's Office academic planner to learn more about their specific deadlines. If you are planning significant changes or want to create a new program, please contact your School/College Dean's Office academic planner as soon as possible.
April 1, 2022, is the deadline by which all proposals must be approved by the different Schools and Colleges; however, if you are planning to create an entirely new program, this deadline may be earlier to meet certain shared governance meeting materials deadlines.
Non-Governed Content
Authorized editors will gain access to edit pages in next-guide.wisc.edu beginning early November 2021. For graduate degree/major, minor, and certificate pages, the deadline to complete editing of Non-Governed Content is February 1, 2022.
It may seem odd that this deadline is so much earlier than the deadline for Governed Content. This is because sufficient time is needed for the text on every tab of every page to be reviewed by each School/College Guide Coordinator, and then finally by a professional copy editor, prior to the publication being released to the public on June 1, 2022.
Directory Information
What is very important to understand is that when the Non-Governed Content editing window begins in early November 2021, there are two environments of Guide in existence:
1) the live version (guide.wisc.edu) which is reachable by anyone on the Internet at the present moment, and
2) the development version (next-guide.wisc.edu) where editing takes place for the next version of Guide that will be publicly published on June 1, 2022.
Therefore, if you would like to make changes to Directory Information, you must consider which version of Guide you want edited. If the Directory Information changes do not go into effect until June 1, 2022, then it is enough to edit only in the development environment at next-guide.wisc.edu. However, if you want the changes to go live immediately, you must also request the change to the live version at guide.wisc.edu following the instructions above.
If it is easier for you, you may request the Graduate School's Academic Planning PA edit the Directory Information in both environments for you, but please specify this in your request.
If you have any questions about this process, please contact the Graduate School's Academic Planning PA.
Training and Open Labs
For training on your own, the Registrar's Office has created a Canvas course that introduces you to the Guide, Lumen, and teaches you how to edit. In addition, there is a separate KnowledgeBase for Lumen.
Open Labs
Finally, Emily Reynolds is holding several Open Labs this fall on a drop-in basis to answer your specific Guide editing questions. The priority during these Open Labs will be to help edit Non-Governed Content, but as time allows you may ask for help with Governed Content too.
Here is the schedule:
More open labs will be offered beginning in early November 2021, to continue through March 2022. Keep an eye on the GradCoords listserv for the announcement of these labs.