Moodle - Logging in and Creating a Course
Note:
UW-Madison has adopted Canvas as its single, centrally supported learning management system. As of 6/1/2018, support for Desire2Learn (D2L) and most Moodle courses has been discontinued. Access to those courses has permanently ended. However, certain Moodle courses that are part of the Adanced Quizzing Content Functional Gaps project are still available on Moodle. Those courses are located on the Moodle Extension site.
Logging in and creating a course with UW-Madison Moodle service
Links for creating UW Moodle courses
Fall 2017 - Summer 2018 courses: Click here to create your course.
Summer 2018 courses: Click here to create your course.

Ongoing courses (not restricted to a single term) : Contact your moodle support person.


Note: Not all schools and colleges allow automatic Moodle course creation. See

Document 34883 is unavailable at this time.

.


Logging in and creating a course: getting oriented with Moodle (UW-Madison Moodle)
Use your NetID and password to log into Moodle. In certain instances, Moodle-only accounts or Guest access may be granted.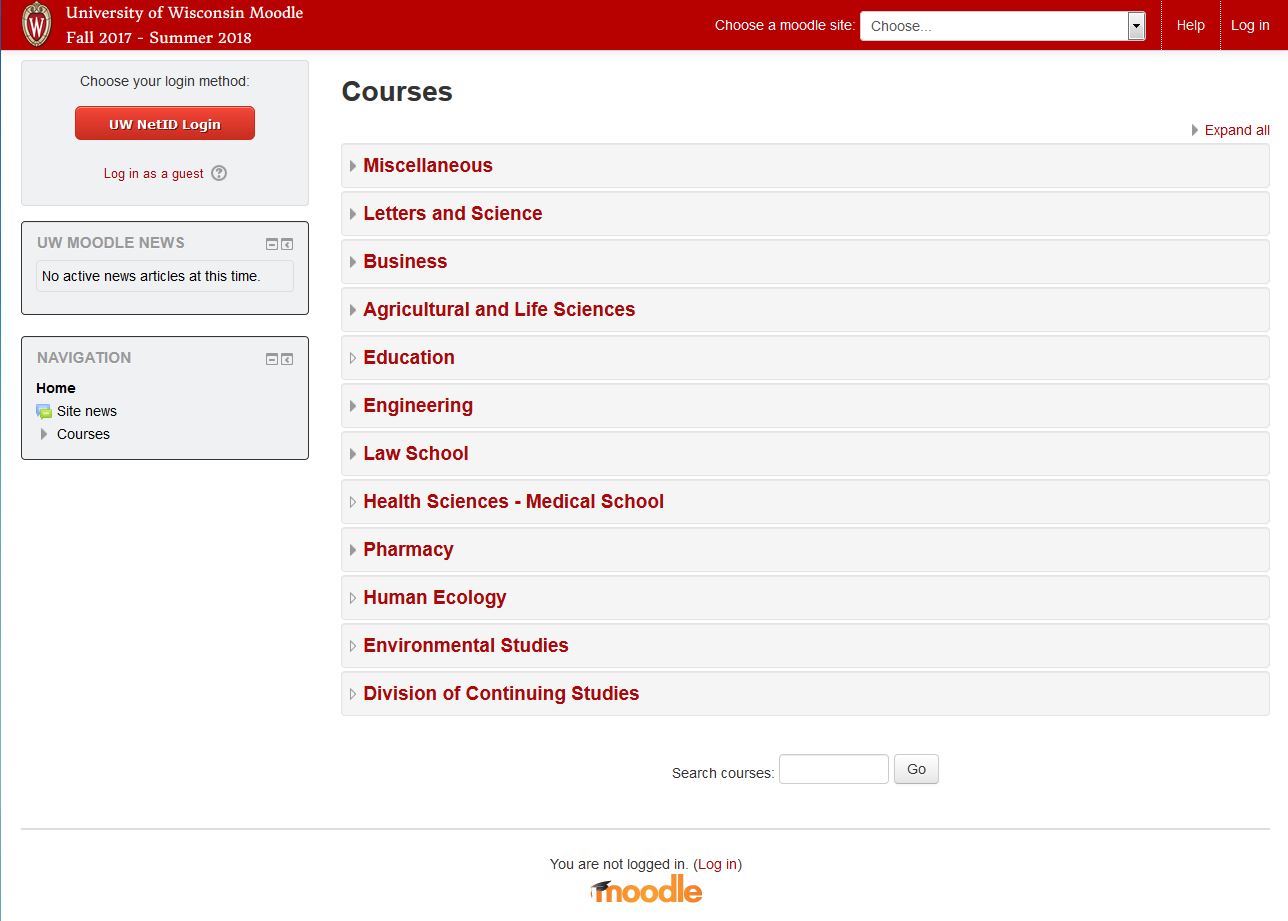 Once logged in, you'll see your current semester courses. Some extra functionality is found in the blocks at the margins. One of these functions is course creation, found in the Settings block under Site administration -> Courses -> Create a new UW course. Using this link, faculty can quickly create their own courses, associate rosters, and retrieve course archives.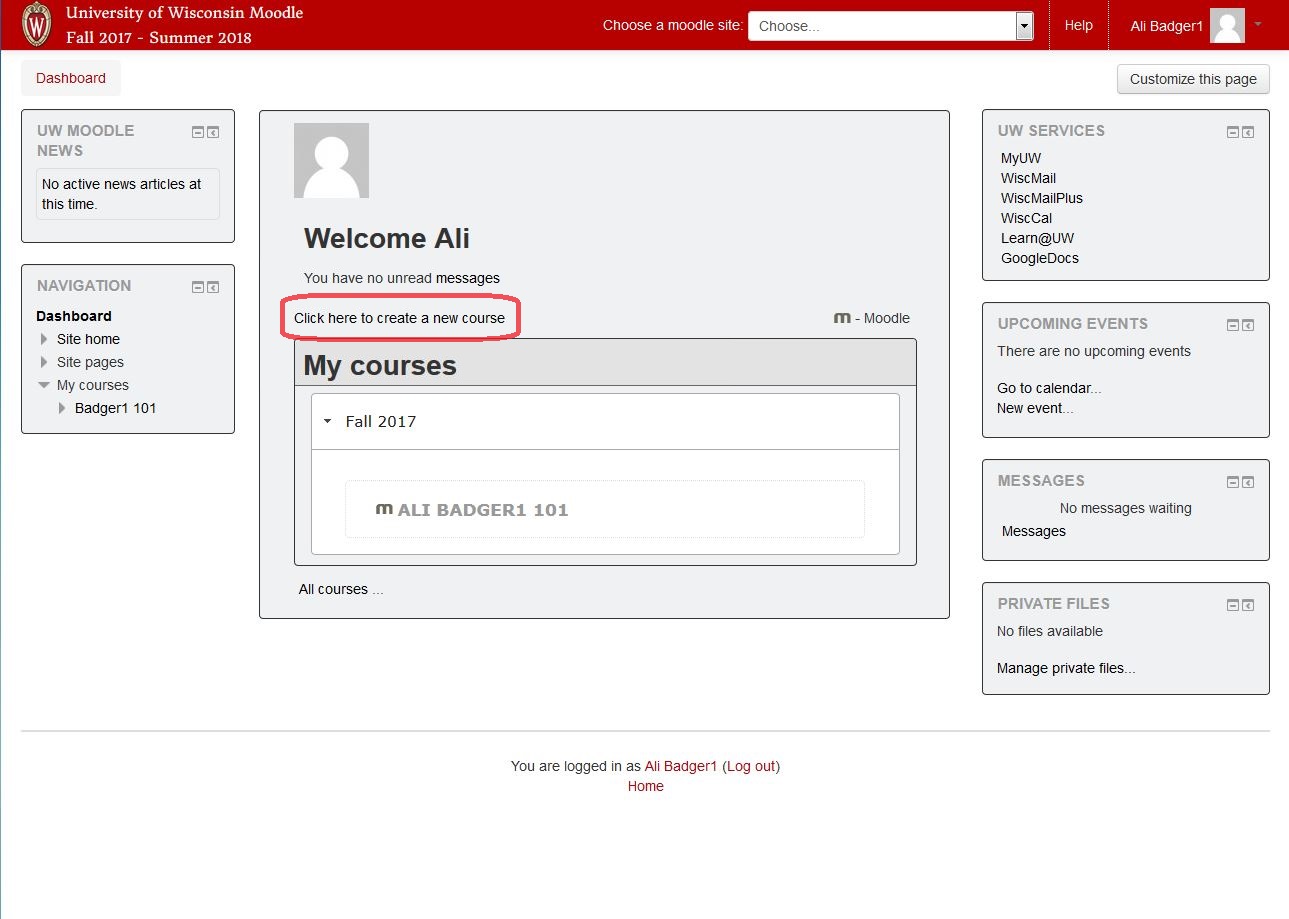 Creating a Course
1. To create a course click the Create a new UW course link. Select the appropriate semester from the "Term" drop-down menu and click Next.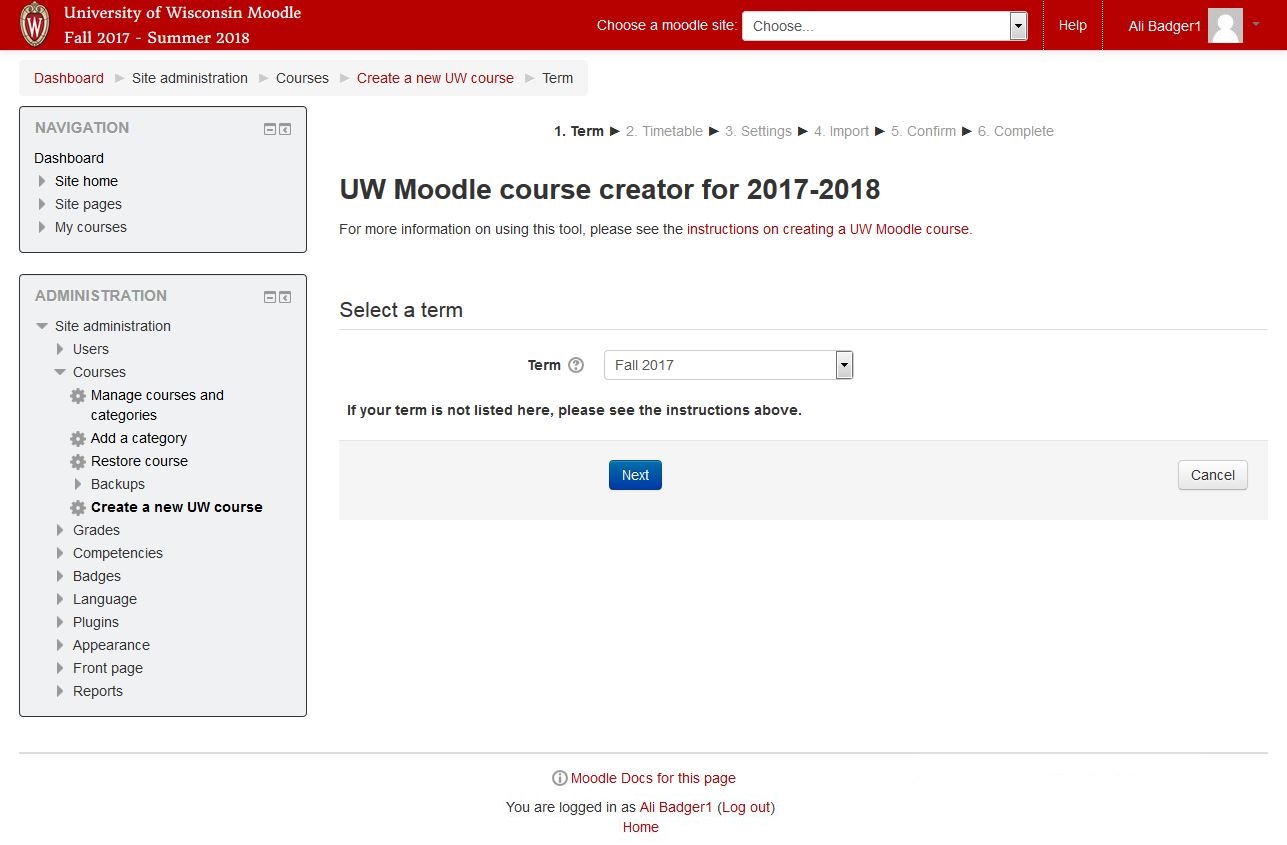 2. On the next page, you should see your Timetable courses in the box on the right. You can add additional courses by clicking the Search for a course button below the course listing box. Select the desired section(s) in the box on the right and click the Add button to move them to the "Associations in this course" (left box). Click Next to continue.

If you're creating a course that doesn't have an associated roster, just click Next without doing anything. You'll be asked to confirm the absence of a timetable mapping. Click Yes when prompted.

Note: If your course roster is not available, the Moodle administrator must request access to roster data for that course or department. Contact the Moodle administrator for your server with the course and section information you need.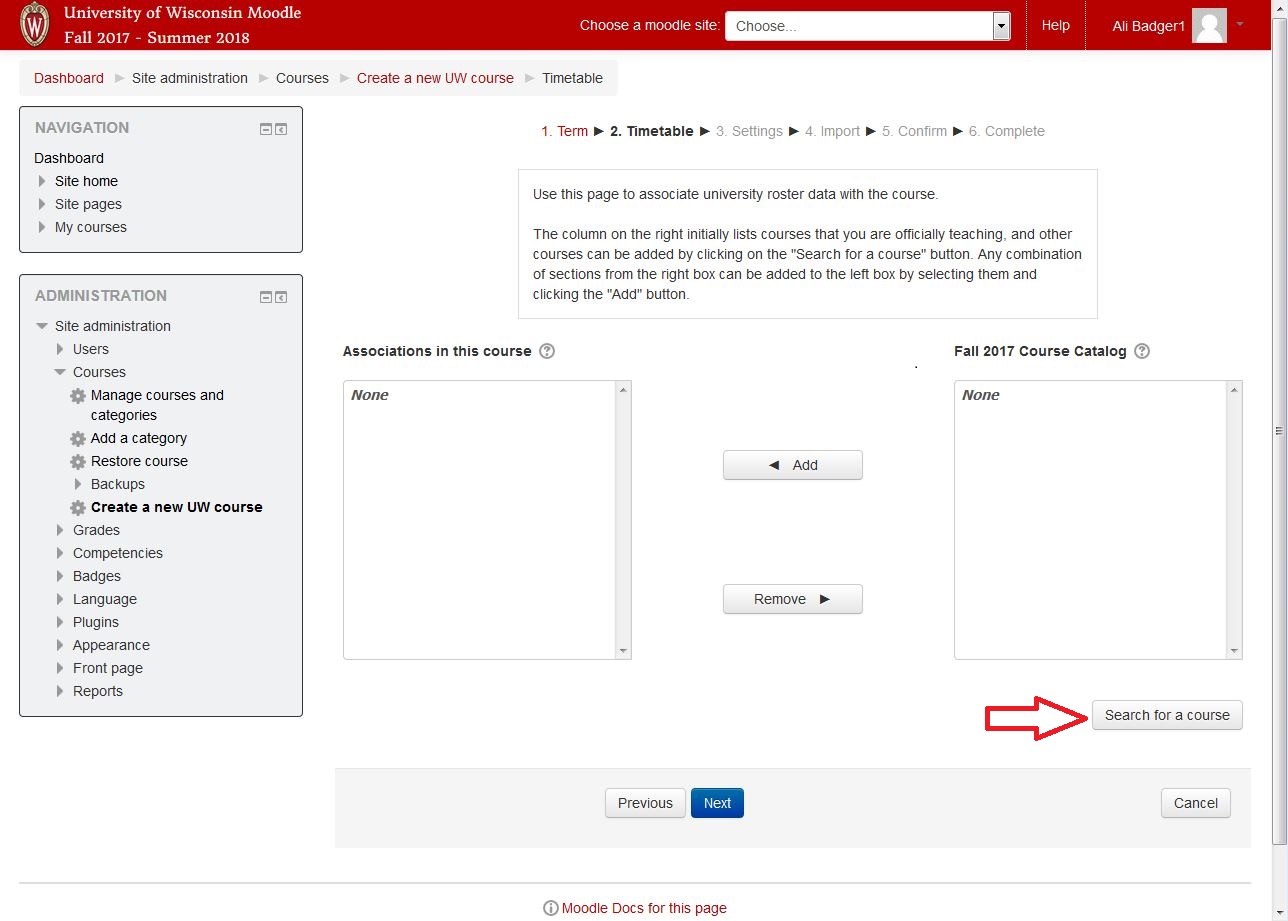 3. Once you have selected your sections to associate with this Moodle course, you are given the opportunity to import course content from one of your previous semester courses. The system will try to find your previous semester's version of the course and list it first. Otherwise, you can search to find the past course you want to import content from.
Click the radio button of the desired course and then click Next. If this is a new course, just click Next right away to get a blank course.

4. If you've imported an archived course, you'll have the chance to adjust some basic settings like start date and whether the course is visible or not. You can also choose to send a message to all instructors alerting them the course page is ready. Click the checkbox to send out this message. Click Create Course to finish the process.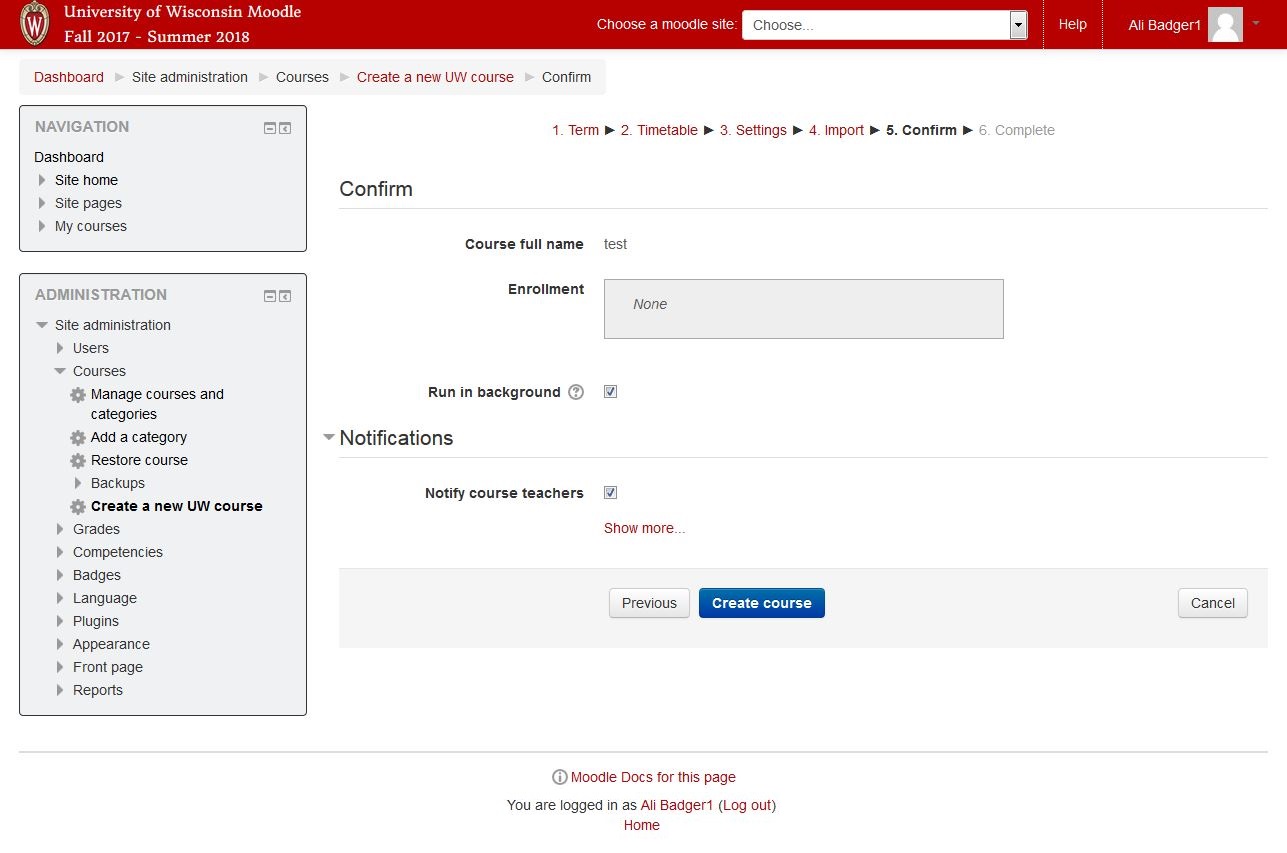 Your course may not be ready immediately. When it is ready, you'll receive an email message if the above checkbox was checked. Until then the course will be listed on the Moodle as "In progress". If you've added rosters to your course, they also may take a short time to be updated.

For troubleshooting techniques on Creating a Course see
Problems Creating a Course.