Topics Map > Networks & Connectivity > Campus Network

Topics Map > Networks & Connectivity > Wireless UWNet

UWNet - Register a Device Without a Browser or Pre-registering a Device Before Arriving to Campus
This document will describe how to register a device on UWNet that does not have a browser to authenticate a NetID and password, or pre-register a device on UWNet before it has arrived on campus.
These instructions can be used for any device that you intend to UWNet or UWNet-Housing wireless, as well as wired connections to Aruba access points (HAPs) in UW Residence Halls.
Note: These instructions require a NetID. Guest wireless users are not able to register devices other than those with a browser.
Register A Device:
Locate the MAC Address of the device. For common devices, instructions can be found here: Finding the MAC and IP Address of a Device. For instructions for more specialized devices, consult the manufacturer's documentation. If the device lists multiple MAC Addresses, use the WiFi Address or Wireless Address.

Navigate a browser to access.services.wisc.edu/Device. You may be asked to authenticate with your NetID.

Select Register a New Device.

Under Device Name, enter a brief description of what kind of device you are registering. Under MAC Address, enter the MAC Address that was located in step 2. Click Create.

Note: if you get the following error message, the device registration was not successful. If you have previously unsuccessfully tried to register the device to UWNet or clicked UWNet on your device, there is an unauthenticated record created for your device that this tool cannot override.

Either click here to open an email to the DoIT Help Desk that will pre-fill with the information the DoIT Help Desk needs to manually register a device or contact the DoIT Help Desk through phone or livechat (See: Get Help from DoIT). The DoIT Help Desk can manually register devices on the network.

The device will now show in the list of devices registered to your NetID.
Registering a device on UWnet without a HAP
If you live in one of the following places, you'll need to visit the Resnet Registration page to register your device:
Eagle Heights
Harvey St. Apartments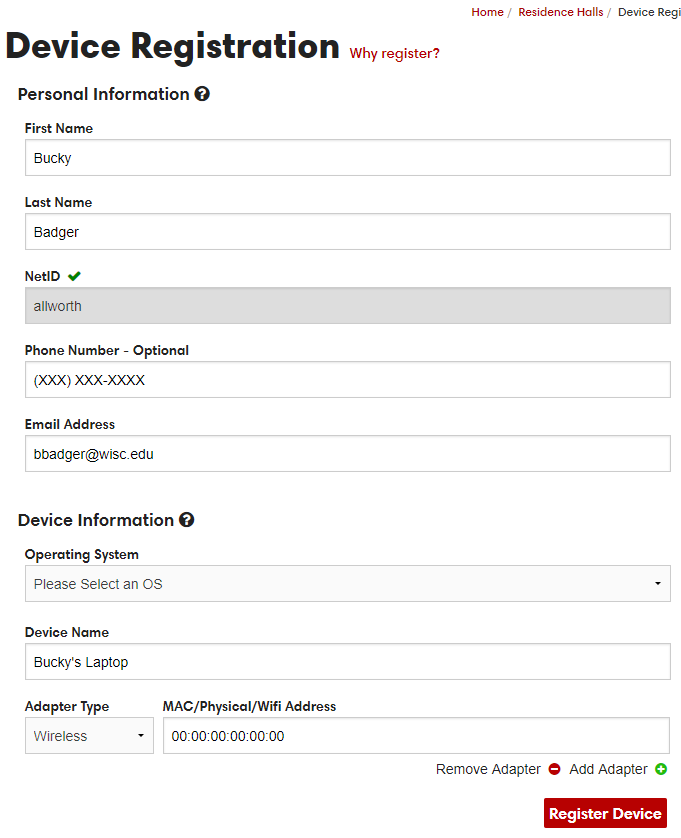 Actions:
Renew: This will extend the date that the device registration expires in the UWNet database to 6 months from the current date.

Delete: This unregisters the device and removes it from the list of devices associated with your NetID. This might be necessary for troubleshooting connection issues, or clearing all information on a device prior to selling or disposing your device.
If you experience issues or have any questions, contact the DoIT Help Desk and provide the MAC Address of the device. See: Get Help from DoIT
See Also: