Topics Map > Business Systems > e-Reimbursement

e-Reimbursement - Where is my expense report, travel authorization, or cash advance?
If you would like to know the status of your expense report (ER), travel authorization (TA), or cash advance (CA) there are several options available for checking the status.
Viewing the Report
You can view the Action History and Pending Actions section of the ER/TA/CA to see the status of the ER/TA/CA. To do so, go to Employee Self-Service > Travel and Expense Center and click on View under Expense Report, Travel Authorization, or Cash Advance depending on the kind of report you're checking. You may also use the "View" options found under the Expense Reports and Travel Authorization categories within the e-Reimbursement - Expenses quick links box. You can then check the Action History and Pending Actions, as shown below, to see what actions have been taken and what actions remain.
Note that the name of the Approver given in the example is (Pooled) rather than the name of the specific person such as for Auditor in the same example. This is because there is more than one Approver that can approve the report at this level. If you want to know more about exactly who needs to act on the request, you can view the status using a query.
Viewing Status via Queries
To view the status of an ER/TA/CA using queries, click on the Queries/Reports link in the e-Reimbursement - Expenses quick links box Note: Main menu navigation is Travel and Expenses > UW Travel and Expenses > Information - Traveler. You will then see an option to search, as shown below. Click the Search button without entering anything in the Row Number field.
You should then see a list of all the queries available to you, as shown below. Select the appropriate query for the type of report you're interested in. If you have a travel authorization or cash advance, click on 1. If you have an expense report, click the link marked 10.
An example of a query for expense reports is shown below. Note that you can click on Details to see more detail.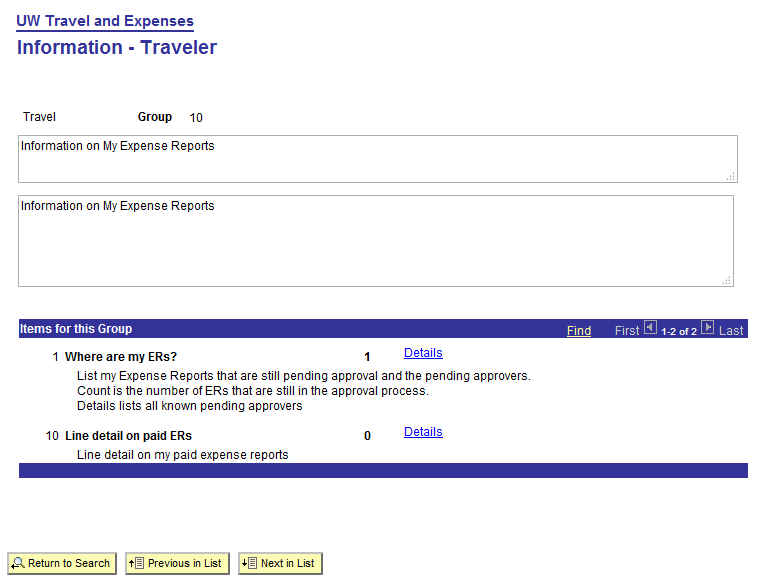 Clicking on Details will open a new window showing the pending actions for that expense report and indicating who needs to act. In the example shown below, the ER needs to be acted on by the approver named Johnny Approverton.