Topics Map > Features and Functionality > Client Capabilities > Mobile

Office 365 (iOS 8) - Working Offline
Best Effort Support Only

This document contains instructions on using a non-Microsoft email client, such as Apple Mail or Thunderbird. Microsoft does not recommend these clients for use with Office 365, and there are often significant limitations in client functionality as a result.

Because of this, the DoIT Help Desk is only able to offer best effort support for these clients, and certain issues may require the use of a Microsoft client in order to be resolved. For more information on Office 365 client support, please see: Office 365 - Which clients/protocols will be supported?.
This document explains how to switch between working online/offline for your iOS 8 device. When you are offline, you will not be able to receive or send messages for that account. However, you will be able to write messages that will be sent from your Outbox once you are back online. It is recommended that you synchronize/Get Mail for your accounts before taking them offline.
How to Go Offline
Open your settings
Make sure Airplane mode is on
Note: When trying to send mail while offline you will be prompted to turn off Airplane mode or to connect to WiFi. Click Ok to ignore this. Your emails will be automatically sent once you connect to the internet.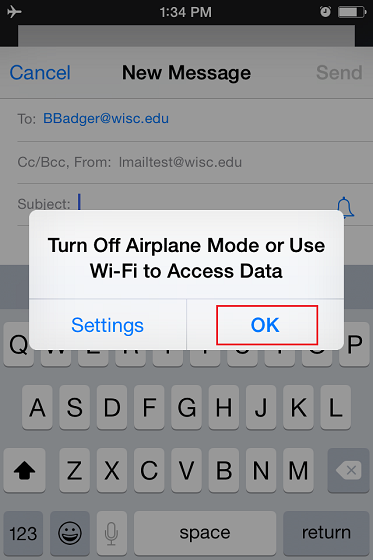 See Also: