Mass Email Tool Guide - Downloading and Opening the Tool
This document describes the process of downloading and opening the Mass Email Tool.
The Mass Email Tool is the combination of tasks that occur within Microsoft Excel and Microsoft Word files. These files have built-in macros (predefined processes that run within Microsoft Office files) that do the work for the tool. Both files are saved together in a compressed folder for ease of access. To make sure you always have the most up-to-date version of the tool, we recommend you download a new copy of the tool for each new project you begin.
Note: the Mass Email Tool does not currently work in macOS due to the operating system's security settings.
Download UW-Madison Mass Email Tool
Open the compressed folder if it doesn't open automatically. Windows should automatically display a special section for compressed folders in the top bar. Click the Extract all button.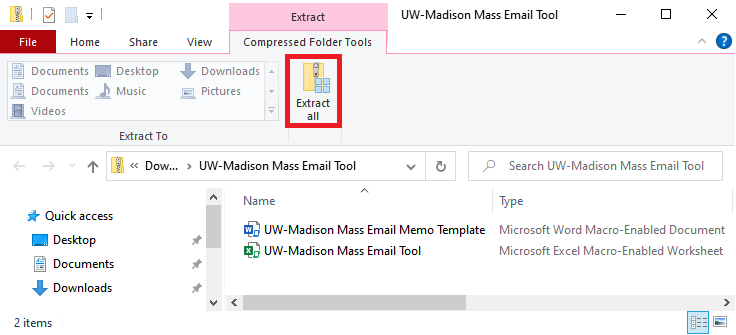 By default, Windows will extract the files to the same folder where the compressed folder is. We recommend creating a dedicated folder where you can keep all the files for your project. Click the Browse... button to open the file browser and select or create a new folder to extract the files into.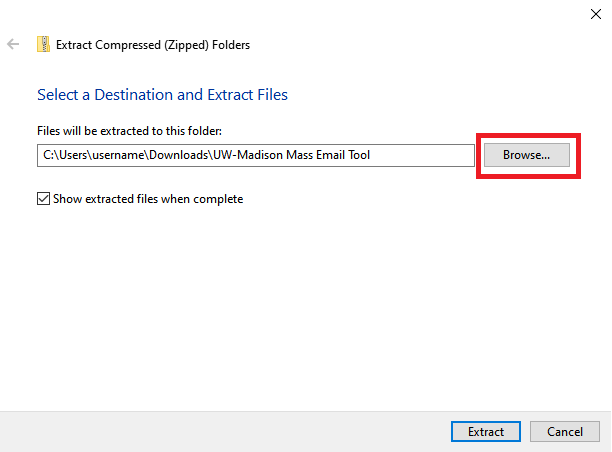 Once the files have extracted, Windows will open the new folder to show you the contents. Verify the filepath to ensure the files are where you expect them to be.

The next document will explain the process of setting up the mail merge and email content and settings.