Moodle - Changing Email Addresses
Note:
UW-Madison is adopting Canvas as the single, centrally supported learning management system, and discontinuing support for Desire2Learn (D2L) and Moodle. Access to D2L and Moodle will permanently end June 1, 2018. For information about retaining materials from D2L or Moodle, please refer to this document.
This article shows how to change the email that Moodle sends messages to. This can be done by either forwarding emails sent to an @wisc.edu address to a different one such as @bus.wisc.edu or @engr.wisc.edu.
The way Moodle sends out emails to personnel is not directly from email addresses in Moodle, but through an outside source. To receive emails to your desired email, you will need to change your preferences outside of Moodle. There are two options for changing these preferences: (1) Forwarding from your @wisc.edu email to another email address, or (2) By changing the preference in MyUW to have the emails from Moodle sent directly to your desired email account.
Forwarding Emails
1. Begin by going to your Wisc Account Administration.
2. Click Wiscmail on the left side of screen and press Forwarding as shown in the image below: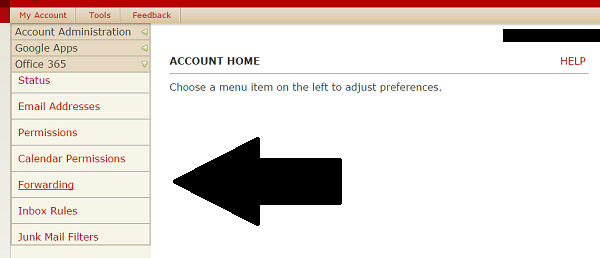 3. After clicking on the link, in the field titled "Your account currently forwards to:", type in the email address of your desired email address.
Changing Your Email Preference in MyUW
2. On the top navigation bar click on Work Record and press Personal Information, as shown in the image below:
3. On the Personal Information page next to "Campus Business Email", press Change.
4. In the "New Campus Business Email:" field, type in your desired email address. Type the same address in the field titled "Confirm New Campus Business Email:".
5. Click Update.
NOTE: This will change your preferred email address for ALL University Services (Desire2Learn, Moodle, etc.).