How To Order Apple Custom Configurations from The DoIT Tech Store
This document covers how to configure and purchase custom Apple products from the new DoIT Tech Store website.
Important:
Custom Configured Apple computers are only available for Departmental Customers.
Many Apple items are in stock and available for immediate purchase from the Tech Store. If you need a model that is not a standard Tech Store item, you can order an Apple Custom Configuration at https://departmental.techstore.wisc.edu but please note that this is considered a special order and will be drop-shipped directly from Apple. Additionally, Custom Configured Apple products are not returnable to the DoIT Tech Store or Apple unless it is a defective item.
Let's Get Started! First, use this link to get to the DoIT online departmental store:
Select the blue "Departmental Sign in" option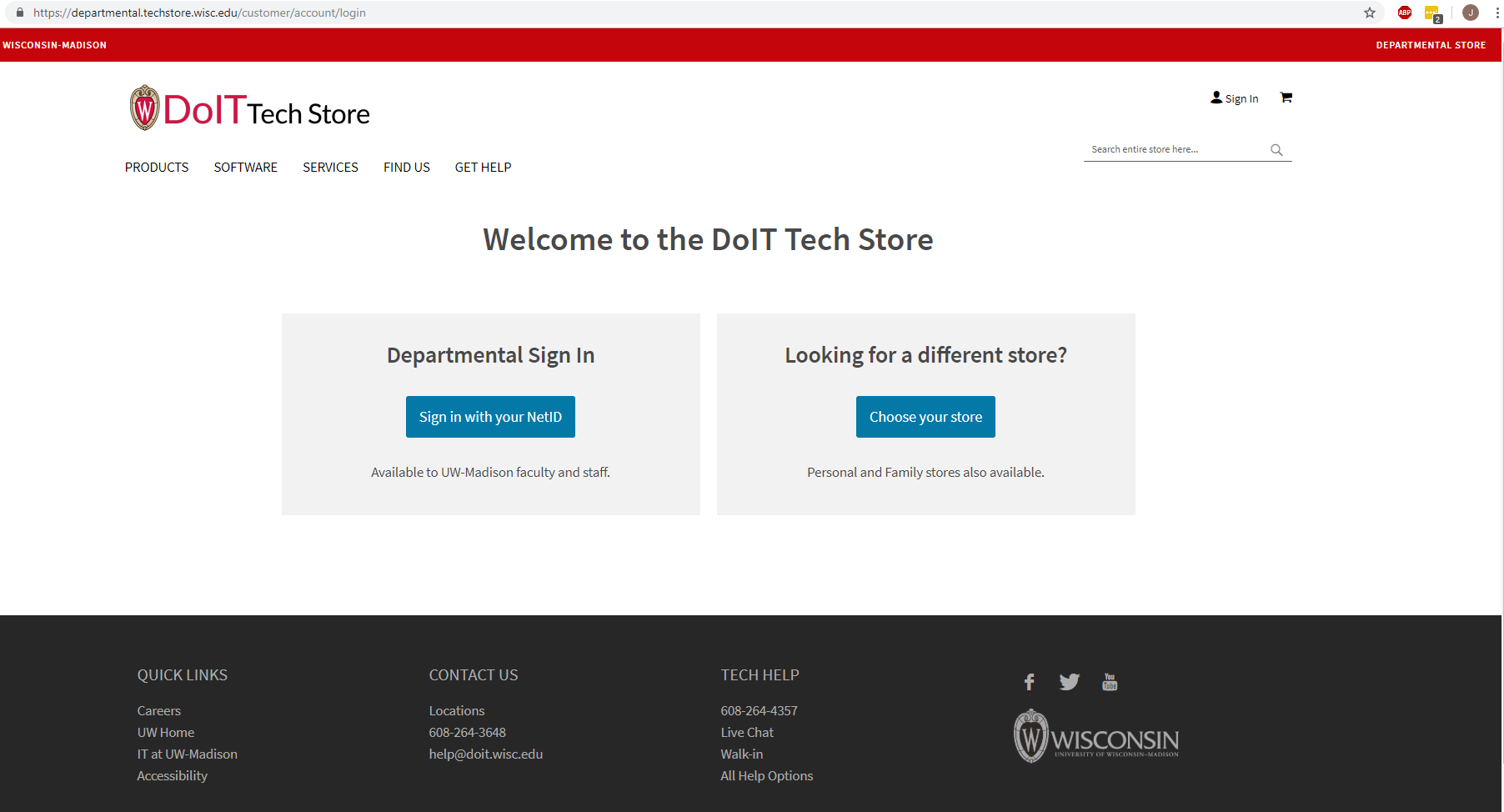 Select the products tab to select the product line you wish to configure.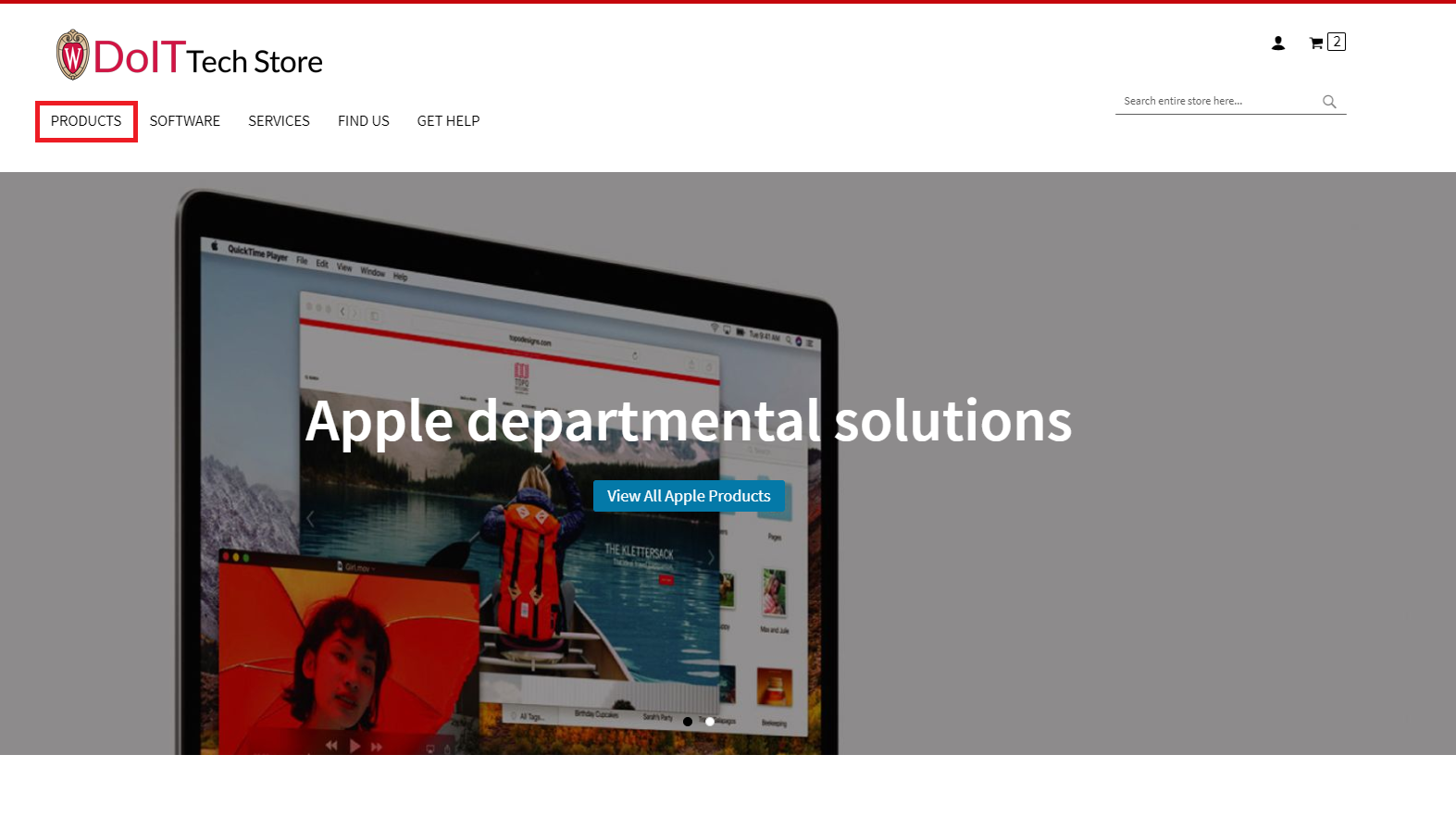 You will now see a listing of Apple products available for customer configuration.
Select the desired product that you wish to configure. Note: The price listed is for the base model configuration of that product. Price will adjust accordingly as you make your selections.

You may now start configuring the selected product with the specifications that you require. The drop down menus on the right show the available options for hardware specs.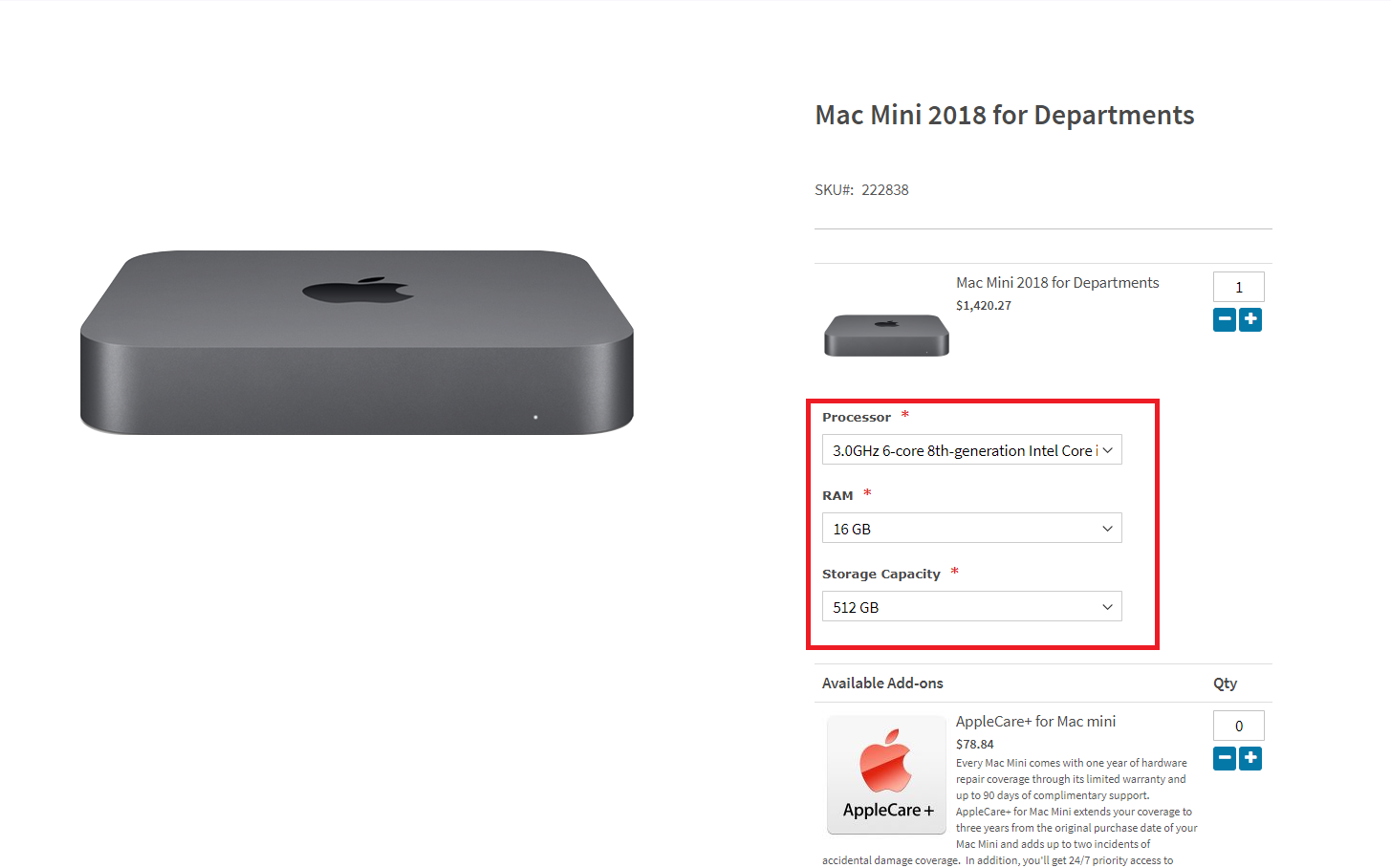 At this point you can choose to add AppleCare+ coverage or other suggested add-ons/ accessories by selecting the "+" symbol underneath the quantity
You will see a subtotal for all items configured and any accessories at the bottom of the page. Make your desired configuration choices then "Add To Cart."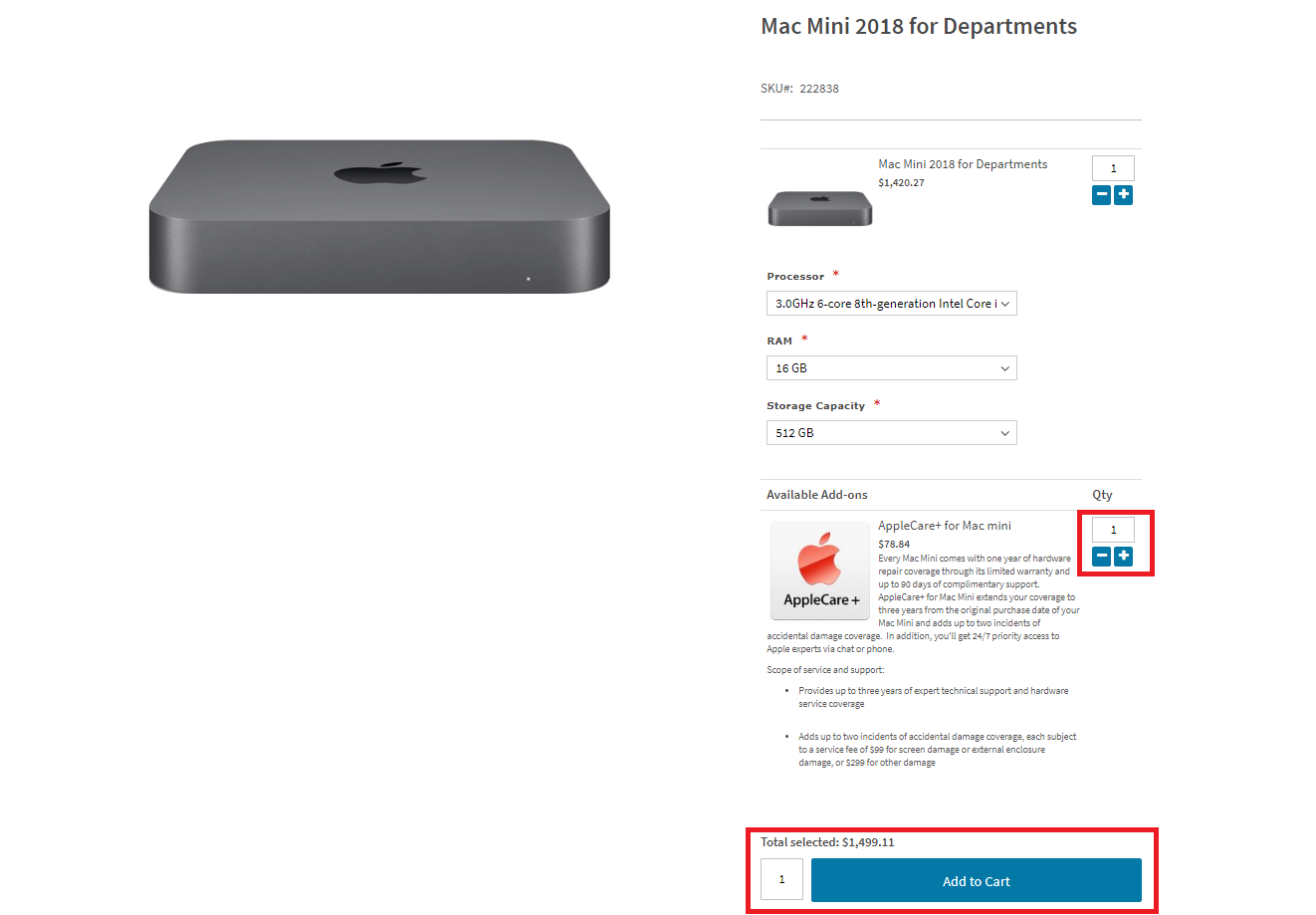 You will see a confirmation message pop up on your screen saying that the item has been added to your shopping cart. You can add items to your cart until you are ready to checkout.
When you are ready to checkout select the cart icon in the top right corner of the webpage.

There will be a board that shows up on the right side of your screen at this point. You can remove unwanted items using the "X" symbol, or adjust quantities of items in your cart using the arrow selectors.
Once your cart looks good you can select the "Go to Checkout" button at the bottom right.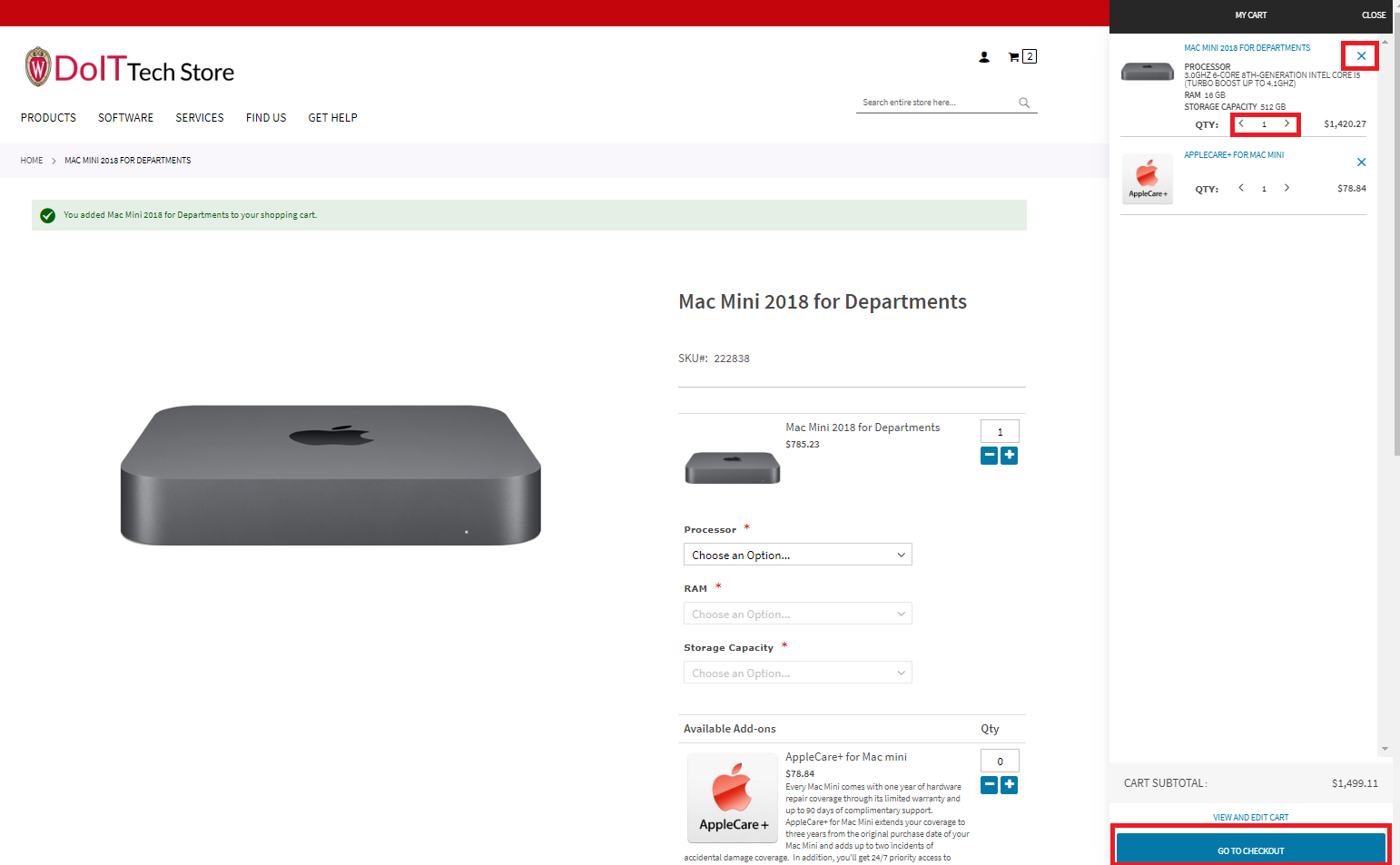 This is the shipping information collection screen. Fill out the form with the required information on where you would like the order shipped to.
You may select to have the custom configured device drop shipped to your departmental office or you may select to pick it up at the DoIT Tech Store location of your choice once it arrives from Apple.
Note: If your order includes both an Apple custom configuration and standard Tech Store items (Ex. a custom Macbook Pro plus a standard USB-C Multi-port Adapter), as stated above, the custom configuration will be drop shipped from Apple at no charge. You have the option to select Store Pick Up or Campus Delivery (fees may apply) for the standard Tech Store items with immediate availability.
Orders cannot be drop shipped out of state and must be drop shipped to a University of Wisconsin address.

Once you are done with those steps select the Next button to move onto the next checkout page.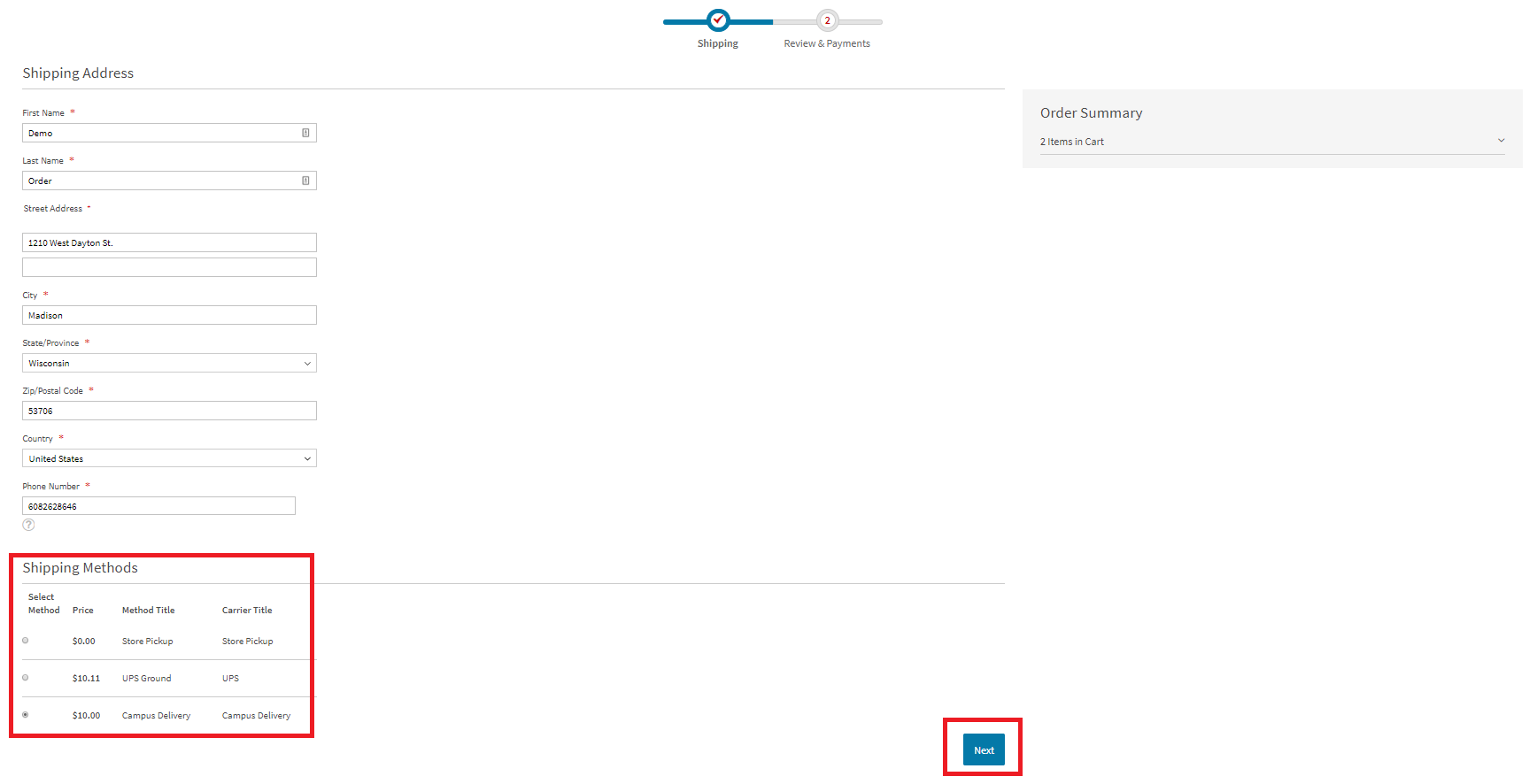 On this screen you will enter your DoIT# into the text field for payment information.
From there, please review the information in the beige area on the right to confirm order accuracy. Once you hit "Place Order" you cannot go back and change your order so please verify the accuracy of price and shipping info.

Finally, select "Place Order" to finish the purchasing process.
Success! When we receive your order we'll begin the custom ordering process with Apple. You will be receiving order and shipping updates to the email address you provide us with from this order form.
An important couple of notes about AppleCare
Departments can purchase extended AppleCare+ coverage.


When an Apple Custom Configuration drop ships from Apple and AppleCare+ was purchased on that order, the AppleCare+ has already been applied to the unit.


This process is known as "Apple Auto-enroll" and it differs from the retail version of AppleCare+ which is activated at the point of sale when a product is purchased from Tech Store stock.
Auto-enroll AppleCare is the same price and extends the same coverage as retail AppleCare.

If you wish to confirm your AppleCare+ coverage you can always look up your coverage at the checkcoverage site. Please allow up to a week for Apple's systems to update and reflect your coverage. Apple will also mail you a letter of coverage in one to two weeks after the product ships.
Apple offers an alternative AppleCare option for departments only. It is called: AppleCare Repair Agreement (ARA). There are three differences concerning ARA; 1) for a three year agreement it is slightly less expensive, 2) both three and four year agreements are available 3) ARA has no phone-support component unlike standard AppleCare+. It sometimes make sense to apply ARA to an institutionally-bound order in order to save your department a little money. Please contact us know if you would like ARA on your order as this cannot be added through the Tech Store website at this time.

If you have questions at any point in the order process, please do not hesitate to contact us for help. Send an email to apple-sales@doit.wisc.edu.