MyUW - Learn more about the new MyUW
We've reimagined the basics and started over with a new look and feel. You'll find intuitive navigation with a clean, responsive design that works on any device, from your desktop computer to your phone.
Here's what's new:
Your homepage is tailored to your role on campus, with content that's relevant to you.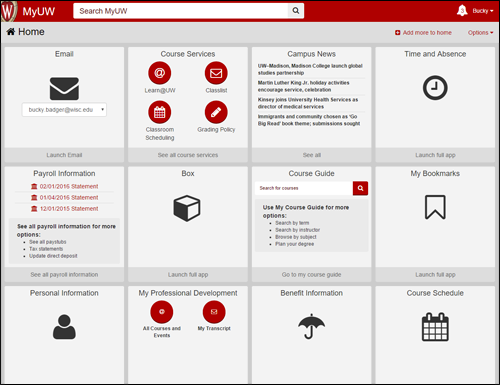 Customize the new MyUW so it works best for you:
Search or browse for content and easily add it to your homepage

Remove content with a single click

Reorder content with drag and drop

View widgets as compact quick links or with expanded information

Minimize the sidebar if you need more room
To learn more about how to use the new MyUW, check out the Welcome to MyUW Guide.
We're constantly improving
MyUW is a work in progress, reacting to our users' feedback to make it better.
Ready to make the switch?
What if I don't like the new MyUW?
First, we'd love to get your feedback so we can make it better. If you're just having trouble learning how to use the new MyUW, the DoIT Help Desk can give you one-on-one guidance. If all else fails and you're still unhappy with the new MyUW, you can switch back to MyUW Classic with the link on the bottom of the page.