Student Center - Wish List Help
The Wish List is an enrollment planning tool and accessible through a link on the Student Center page in MyUW. Students are able to place classes into their Wish List before their enrollment appointment time. They can validate their eligibility to enroll in selected classes and see what their class schedule will look like in a special planning grid.
Basic functionality:
Class Search. Find a class to add.
Validate the selected classes.
Enroll from their Wish List at the time of their Enrollment Appointment.
Important:
If a class is displayed in your Wish List/Shopping Cart, you are not enrolled for this class. You will need to click on the 'begin enrolling' button to finalize your enrollment attempt.
Wish List Options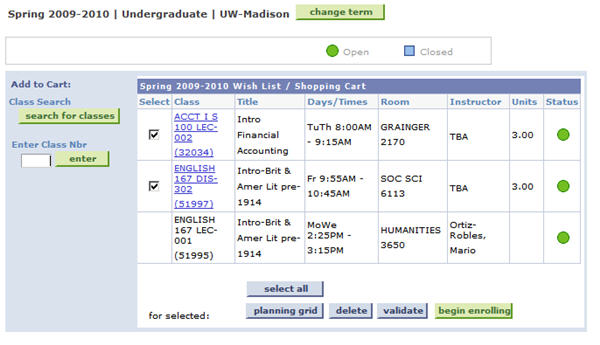 "Validate Selected"
button will appear when there is a Validation Appointment (during a Validation period) or an Enrollment Appointment in effect.
What is validated:
Time conflict with planned or already enrolled classes
Enrollment Prerequisites
Permissions – will validate whether class requires permission
Term and Session credit limits
What is not validated:
Closed class – displayed by red square
Previously taken class – no credit for graduation
Deadline dates
"Planning Grid For Selected"
button Will display selected wish list classes in a grid format with:
classes from Wish List marked as ~~ Wish List ~~
time conflicts marked as **Conflict**
any successfully enrolled courses marked as ___Enrolled___
"Delete Selected" button
This will remove the selected class(es) from the Wish List. This will not remove classes from the Enrollment Shopping Cart or already enrolled class(es).

"Add Selected" button
This feature will submit the selected class(es) into the enrollment process (Finish Enrolling). An unsuccessful enrollment attempt will place the class into the Enrollment Shopping Cart and the class will also remain in the Wish List. A successful enrollment attempt will remove the class from both places. Classes removed from the Shopping Cart after an unsuccessful attempt to enroll will remain in the Wish List.