Blackboard Collaborate Ultra - Access via MyUW
This document explains how to access the Blackboard Collaborate Ultra (BBCU) web conferencing service from the MyUW portal.
All UW System faculty and staff have access to Blackboard's web conferencing solution, Collaborate Ultra. It can be accessed on MyUW using the widget below:
Please note that the widget may appear different on mobile devices as a compact view mode is needed to accommodate a smaller display, such as the following screenshot depicts (see highlighted widget). For more information about the MyUW view modes, see [Link for document 51574 is unavailable at this time.].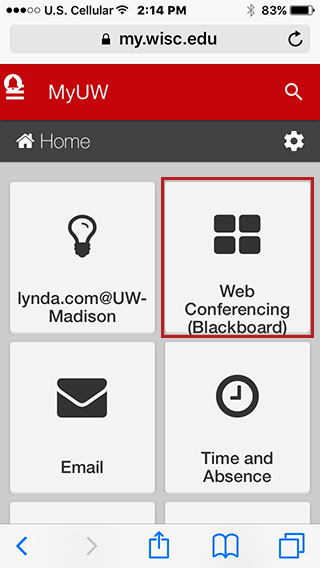 How do I add the widget to my homepage?
The widget will appear on the default homepage for faculty and staff at all UW campuses, with the exception of UW-Madison. UW-Madison users should search Web Conferencing (Blackboard) in the MyUW search bar, and select the "Add to Home" button.
Who can I contact for more information?
Please contact your designated campus Blackboard Collaborate Administrator or your Help Desk for further guidance.