Health, Nutrition and Biotechnology Speakers
(Tip: Press your CTRL and F keys to search this page)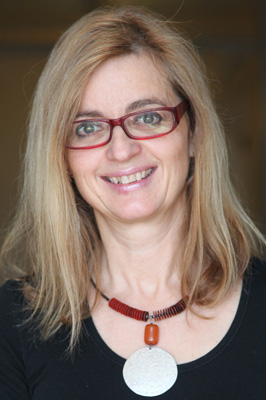 Arieceli Alonso
Professor
Gender and Women's Studies | School of Medicine and Public Health
Araceli Alonso is an Associate Faculty at UW-Madison in the Department of Gender and Women's Studies and the School of Medicine and Public Health, where she teaches classes on women's health and women's rights. Dr. Alonso is also the Founder and Director of Health by Motorbike (HbM), an NGO that provides medical services and health literacy to remote and isolated villages in Africa. For her work with women in rural Kenya, Dr. Alonso has been awarded the United Nations Public Service Award (United Nations, 2013) and the Jefferson Award for Public Service (American Institute for Public Service, 2013). In 2016, she became co-holder of the UNESCO chair at UW-Madison for Global Work on Gender, Well-Being and Peace.
Talks by Araceli Alonso:
1. Gender and the UN-MDGs
3. Human Trafficking
Video of Araceli Alonso
Video of Araceli Alonso
April 5, 2016 UW-Madison press release: UW-Madison Receives UN Chair for Global Work on Gender, Well-Being and Peace
http://news.wisc.edu/uw-madison-receives-un-chair-for-global-work-on-gender-well-being-and-peace/
---



Sandra Splinter BonDurant
---
---
---
2. Dairy Ingredient Composition and Functionality (including nonfat dry milk, whey protein and milk protein ingredients, milk and whey permeate, lactose, etc.)
3. Dairy Ingredient Uses in Foods
4. Nutritional Properties of Whey Proteins
6. Formulation of Dairy Protein Drinks.
7. Promoting Food Science as a Career Path
---
Sarah Carroll
HR Competencies Coordinator
UW Madison Office of Human Resources
Sarah Carroll has a Master's in Education with an emphasis in adult learning and 15 years of human resources experience, including recruitment, on-boarding, training and staff development, in a variety of settings including non-profits, healthcare, the performing arts, and information technology. She is the HR competencies program developer with the HR Communities of Practice Team in the Office of Human Resources (OHR) at UW-Madison.
Talks by Sarah Carroll:
1. Prospering in the Time Space Continuum: How to Use Time and Space to Your Advantage
2. Building a Culture of Collaboration for Stronger Project Management
---
Nathaniel Chin
Assistant Professor of Medicine (CHS)
Medicine and Public Health
Nathaniel Chin, MD, recently joined the Wisconsin Alzheimer's Disease Research Center (ADRC) as Director of Medical Services. Dr. Chin grew up in Watertown, Wisconsin, and earned undergraduate and medical degrees from UW-Madison. He completed an internal medicine residency at the University of California, San Diego, and it was during this time that Dr. Chin's father was diagnosed with early onset Alzheimer's disease. His father's condition influenced the way he began to look at his own career, and Dr. Chin decided to pursue a career as a geriatrician and scientist focused on AD and dementia. Dr. Chin completed a one-year geriatrics fellowship at the UW, and also a new 6-month dementia fellowship. Dr. Chin also treats patients in the UW Health Memory Clinic in Madison in addition to pursuing health services research within the Wisconsin ADRC.
Talks by Dr. Chin:
1. Alzheimer's Disease: An introduction and update.
2. Memory Loss: When is it a problem?
3. Healthy Aging and Cognition: What can I do now?
---
---
---
---
1.
Health Care Reform
2. Affordable Care Act/ObamaCare: Current status and outlook
3. Wisconsin's State Health Policy Direction and Implications
4. The Effect of Medicaid Coverage on Utilization and Costs
5. Insurance coverage, access to care, and health outcomes
6. Medicaid and BadgerCare Reform
7. Implementation of the Affordable Care Act
8. Health Care Coverage and Access
9. State Health Care Policy and Systems Reform
---
---
---
---
1. Affordable Care Act in Wisconsin


---
---
---
---
2. The Cross-Activation Theory at Ten: Substantial Progress, Future Challenges
3. Integration of Quantities, Symbols and Space in Parietal Cortex: Implications for Education
4. Synaesthesia as a Window into Human Nature
5. On the Origins of Human-Specific Numerical Abilities
6. Number Lines: From Synaesthesia to Education and Back
---
---
Ronald Kalil
Professor
Department of Neuroscience | Public Policy Program
Ronald Kalil
has a Ph.D. degree in neuroscience from M.I.T. He joined the UW-Madison faculty in September of 1973 and established the Neuroscience training Program, the campus-wide graduate program in neuroscience. He directed the Program for 25 years. He also established the W.M. Keck Laboratory for Biological Imaging, the Center for Neuroscience and the Neuroscience and Public Policy graduate program; the only graduate program of its kind in the country. His primary faculty appointment is in the School of Medicine and Public Health, but is also an Affiliate Faculty member in the La Follette School for Public Affairs and the UW-Madison Law School.
Talks by Ronald Kalil:
1. Neuroscience and Public Policy
2. Neuroscience and Law
---
---
1. How Medical Imaging and Minimally Invasive Surgery Revolutionized Medicine
2. The Big 10 and the Medical Device Industry
---
1.
Taking care of your heart
2. Healthy Eating
3. Exercise and heart disease prevention
4. How to control your blood pressure
5. Cholesterol - what is it and how do I control it?
6. Obesity
---
Robert McGrath
Distinguished Psychologist, Mind/Body Wellness Services
University Health Services | Counseling Psychology Department
---
1. Resilience to Alzheimer's disease
---
---
2. Nutrition and Heart Health
---


---


Dietram Scheufele
---
---


Video of Ahna Skop
---
---
---
3. Popular Beliefs vs. Actual Deception Practices in Online Environments
---
---
Tom Zinnen
Biotechnology Extension Specialist
Biotechnology Center
Thomas Zinnen has been a biotechnology extension specialist since 1991. He also served as a Congressional Science Fellow in 2000-2001, and he was on loan to the National Science Foundation from 2008 to 2010 as a speechwriter for the NSF Director. He leads BioTrek, the public outreach program of the Biotech Center and UW-Extension. His key role is in welcoming Wisconsinites to come experience science at their public, land-grant research university.
Talks by Thomas Zinnen:
1. Changing Colors in the Spectrum of Biotechnology & Food
2. Sharing Science with Children and Grandchildren
3. Experiencing Science as Exploring the Unknown
4. X Marks the Spot:Places of Great Discoveries at UW-Madison
---
---