Printing: Adding a WCER network printer to a Windows domain computer
WCER printer setup for Windows domain computers.
Prerequisites
To use this printer add method - you must meet both of these parameters.

PC computer must be connected to a live Ethernet cable within a School of Education building (Education, Teacher Education, Educational Sciences, or Henry Mall).
Your pc computer must be already joined to the soe-ad domain. If you are unsure if your computer is joined to the domain, refer to Check your Windows computer's domain connection.

Connect to a WCER Network Printer
Open your computer's Settings Panel.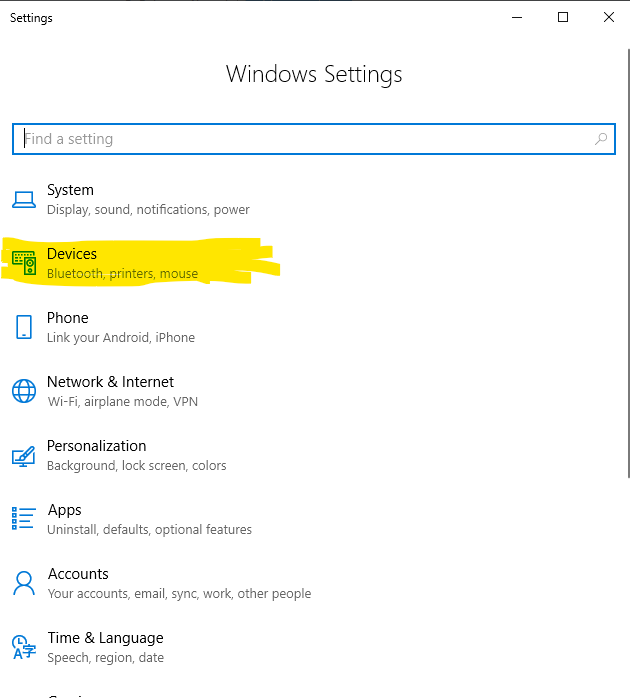 Click on the Devices option.
In the Devices view, click on the Printers & Scanners option.
Click on the "+" sign next to Add a Printer or Scanner.
Scroll to the bottom of the list of available printers and click the blue text that says The printer that I want isn't listed. The list of available printers may grow while scrolling as your computer searches for available printers.
Select the radio button for Select a shared printer by name.
Enter the printer share by following the example. The computername is spruce and the printername is the name of the printer you are installing. In this example we are adding the printer called omaha. It will look similar to this: \\spruce\omaha.

Select Next.
The print server will automatically install the printer's driver for you.
You will receive a confirmation that the printer has been installed and the name assigned to it.

Select Next.

You can configure this printer to be your default printer by checking the box for Set as the default printer.
Test the configuration by selecting Print a test page.
Note: DO NOT select this for color printers. Color printers will sometimes test with a full color picture page and waste a lot of ink or toner for this.

DO NOT print a test page for any of the Ricoh floor printers. A job code has not been entered yet so the printer will not let the job through and will generate an error message on the printer.
Select Finish.
See Also: