WiscIT Widget - Command Palettes
These widgets are made to hold a number of commands within one widget. They are especially helpful if a set of dashboards need the same list of commands (links to dashboards, searches, one-steps, etc.).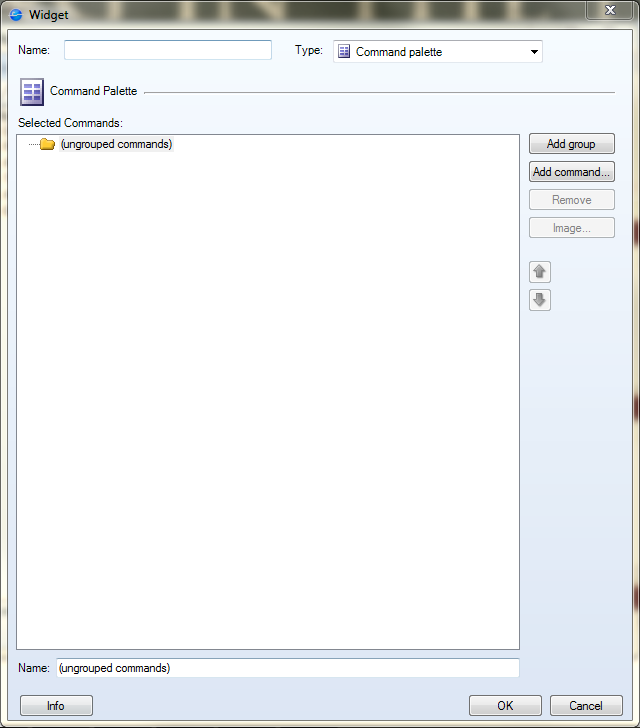 The large white section of the window is where the creator can view the groups and commands that have been added. When the widget is active, the layout will look similar to how it does in this area.
The buttons on the right-hand side of the Selected Commands area give a few options for manipulating the commands in the palette.
Name
Button
Function
Add Group
This adds a folder to the palette, which can be named in the Name field below the Selected Commands area. Commands added while a specific group or folder is selected will add the command to that folder. Groups can be collapsed both in this window and in a dashboard to give more visibility to other groups and commands if necessary.


Note: By default, a "folder" for ungrouped commands is viewable in the Selected Commands area. If a command is created outside of a specific folder, it is put in this area. When the widget is used in a dashboard, ungrouped commands will be listed at the top.

Add Command
This opens the Action Manager so an action can be run when the command is selected. Commands can open or run Action Catalogs, Calendars, System Commands, Dashboards, Document Repositories, One-Steps, HTML Pages, Reports, Searches, or Visualizations. Once a command type has been chosen, the Association of that command can be chosen with the drop down box near the top of the window.
Remove
Clicking this button when a group or command is selected will delete the selected object.

Image
This button becomes available when a command is selected. To have a command have a specific image, click this button and select the desired image from the Image Manager.
Move Up
Use this button to move the selected group or command up in the list.

Move Down
Use this button to move the selected group or command down in the list.