WiscIT - Create a New Recruitment
This document explains how to create a new recruitment within WiscIT.
Access HR Dashboard
A new recruitment form can be created from an HR dashboard. If you are unsure of how to access your HR dashboard, please see WiscIT - Accessing Recruitment Dashboards. Press the "New Recruitment" button to create a new recruitment.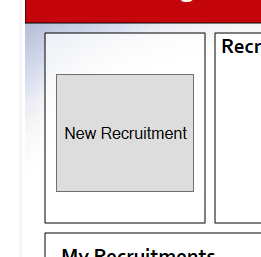 Enter Information into the Recruitment
Enter information into the left hand side of the recruitment. If you are unsure of what to enter into the fields, click on the blue information icon next to it for a short description.
Before submission, advertising sources will have to be added to the recruitment. For information on how to add advertising sources, please see "WiscIT - Add Advertising Source"
Adding Search and Screen Members does not have to be completed before submission, but will need to be added at some point. See this document for how to add search and screen members to a recruitment
Once the Recruitment has been filled out and Advertising Sources have been added, the recruitment can be submitted to DoIT HR and begin the proper approval process. To do this, press the button that says "Submit to DoIT HR".The status of the recruitment will change to "Approvals".
If you wish to save the recruitment and return to it later to finish filling out information, press the "Save" button on the recruitment. It can be accessed later from your HR dashboard.
See Also: