AT- Visix Uploading
Explains how to log into the Visix system
Home : Login : Uploading: Grouping: Editing Playlists: AxisTV Utilities: Editing Layouts
Uploading Documents:
Uploading Content
One of the most important aspects of the Visix system is learning to properly upload content. It is only by uploading content onto the Visix system that you can complete and schedule your presentations.
To do this, first login to the Visix system and click on import. You will be presented with this screen.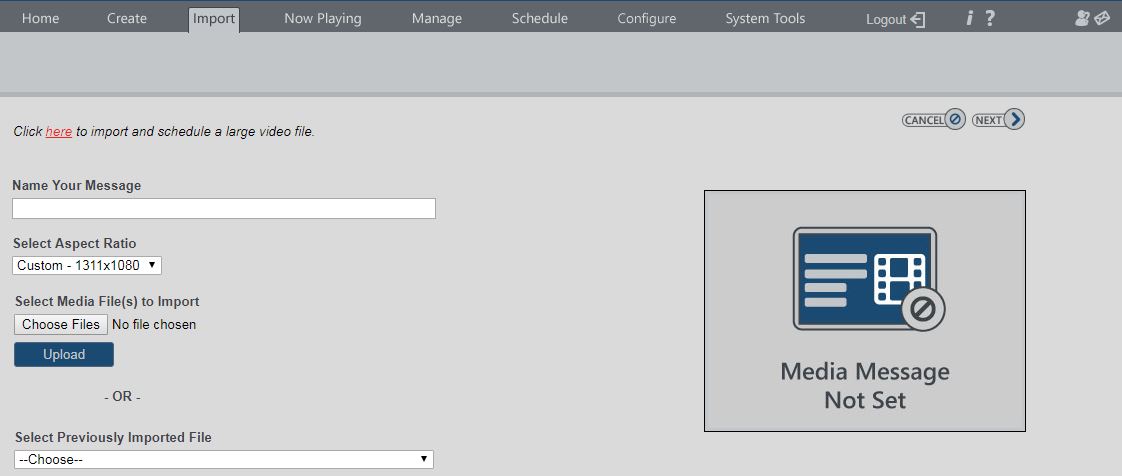 Prior to uploading your image or video, you must name the message. Make sure to make it something that will be easily found later on.
Next, you want to make sure that the Aspect Ratio is set to Default (16:9). Finally, find the image from your desktop by clicking Choose Files and then Upload.
Keep in mind that you can only upload one image at a time.
What you have uploaded can now be found under the Manage tool at the top of the page. To access images click on Graphics. Here you will be able to change the name of images or delete them from the system.