Topics Map > WSUM Student Radio > WSUM People > WSUM Hosts

Topics Map > WSUM Student Radio > WSUM Studio Facility > Studio Equipment

Project Storage
Various classes and groups will often require group space to work together on projects. Please review this document to learn where to store project files.
Public File Storage
WSUM groups and class projects will often require shared network space. The best place for any shared work to be stored is on the
WSUM Public (P:)
drive.

Note that WSUM Executive Management reserves the right to delete any content at any time for any reason from the WSUM Public network drive. Putting something here does not guarentee that the files will be available to you here forever. If you need to keep your stuff, use an external drive.
Class and Group Storage
The save location for class and WSUM project groups should be in the
Libraries -> Documents -> Public Documents
folder.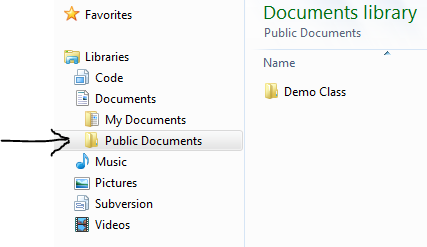 Note that if you are accessing a folder often, it can be dragged into the "Favorites" tab.
Uploads
If you have completed a recording project and are ready to submit it for airplay, either permanent or time-limited, the final file should be saved as a .WAV file, have proper metadata, and posted to the
M:\_UPLOADS_ folder.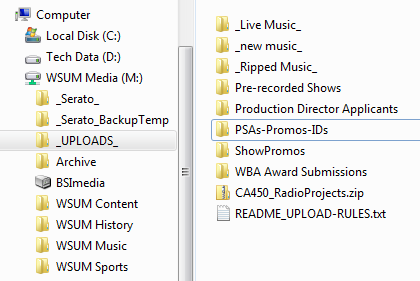 Additionally, an e-mail with the file location, a description of what and why you are posting the file should be sent to
prog@wsum.wisc.edu
.