Topics Map > Administration > Backing Up / Importing Course Material

Moodle - Backup and Restore
Note:
UW-Madison has adopted Canvas as its single, centrally supported learning management system. As of 6/1/2018, support for Desire2Learn (D2L) and most Moodle courses has been discontinued. Access to those courses has permanently ended. However, certain Moodle courses that are part of the Adanced Quizzing Content Functional Gaps project are still available on Moodle. Those courses are located on the Moodle Extension site.
If you want only certain files from your past course in a new course you will need to perform a backup and restore to be able to select only certain content from the past course instead of the all the content.
Backup
To begin a backup you will need to go to the course you want to use the files from and select Backup under "Administration" on the left side of the screen.
You will be prompted to select what you want to backup. Check the boxes of the elements from the old course you want in the new one. After you have selected the content you want click next.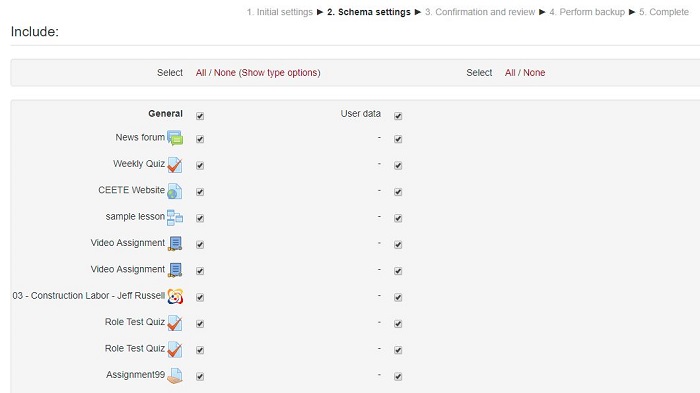 Then you will be taken to a screen to confirm what you will be backing up. The green check marks indicate the content that will be backed up. If everything is right click continue. Click continue after the backup is complete.
You will then be taken to this screen. You will need to click on "Perform backup" for the file you just created and save to your computer.

Restore
The next step for this process is to go to the new course and click on Restore in the "Administration" block on the left side of the screen.
You will be brought to the "Import a Backup File" page. Select Choose a File and then select Browse in the file picker. Select the backup file you just downloaded and then click restore.
You will be asked to confirm what you want to restore. Make sure everything is correct and select continue.
Then there will be an option of where to put the restored files. Make sure you select Merge the backup course into this course
Next you will be taken through confirming everything you want to add to the new course. Make sure you are adding the files you want to add and click continue.
After restoring is complete, the new course should have all the files you backed up from the old course.