Requesting a New Account
Procedure for requesting a new account
There are set criteria for automatic eligibility for a CAE account. In some cases, people don't fit the criteria but still have a need for an account; these exceptions include such cases as:
teaching in a College of engineering classroom
need for a role-based account, such as web editing
participation in a College of Engineering sponsored outreach program
Faculty and permanent staff can request a new account.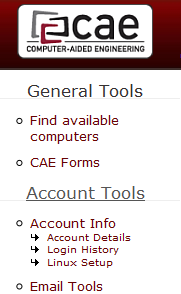 Click on Account Details (Under Account Tools) to load that page or here is the direct URL: https://account.my.cae.wisc.edu/account
If you are authorized to make this request, you will see a "Request New Account" link near the top of the page.
The various types of accounts are explained on the form.