Topics Map > General Info

Topics Map > Settings Tab

KB User's Guide - Settings - Updating a Group Contact
Note
You must have full administrative permissions in your space to perform these steps. This means access to the Documents, Settings, and Users tabs.
When a KB group space is created by the KB Team, the group is assigned a group Contact Name and Email Address, as prescribed by the person requesting the site. The group space Contact can be one or more people. The groups contact can also be a group email list. This document will show you how to update the group Contact field.
See Who Is Listed as Your Group Contact
To see the name and email displayed as the group Contact, those with Admin permissions can navigate to:

KB Admin Tools > Settings tab > Group Spaces link > Group Spaces screen

This screen displays a table of the first 25 KB sites. Your KB Space appears in line item 1 of that table.
Update The Group Contact Information
Line 1 of the table on the Group Spaces table has an Edit button next to the ID field, click that button. You will be led to the Group Space Options screen. Navigate down to the Contact Information table where the Group contact name and Group contact email fields are, make the necessary updates, and click the Update group space button at the bottom of the page.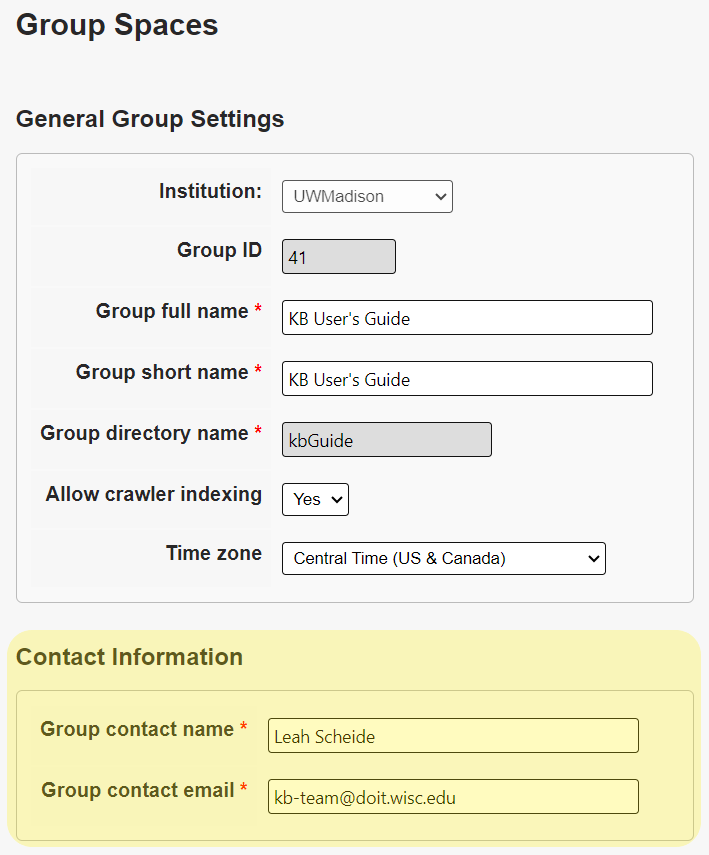 Best Practices
Often, the email address found in the group Contact email field is also found as the recipient of Notifications. To check the email in the Notification page, navigate:
KB Admin Tools > Settings tab > Notifications link > Notification Settings screen > Click to expand Group Notification Email panel
The image below shows the expanded Group Notification Email settings. The Group notification email field is automatically populated by the first group Contact email upon creation.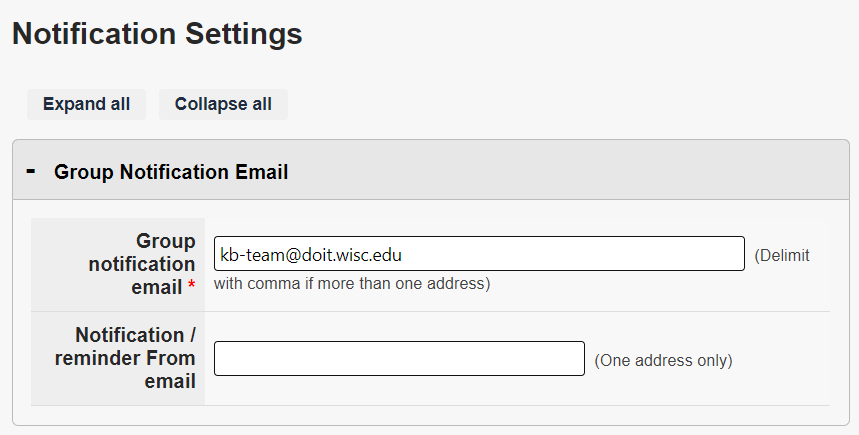 Update this field as necessary
Check all other Notification on this page to make sure they are all updated.
Click the Update button at the bottom of the Notification Settings Screen
For more details about Notification Settings, please refer to KB User's Guide - Settings Tab - Notification Settings.