Disclaimer: This news item was originally posted on Monday, Aug 16, 2021. Its content may no longer be timely or accurate.
WiscVPN Adds Multi-Factor Authentication Aug 23
Posted: 16:29:03, Monday, Aug 16, 2021 Expiration: 16:29:03, Thursday, Sep 30, 2021
Beginning August 23, multi-factor authentication (MFA) with Duo will be added to UW–Madison's Virtual Private Network (WiscVPN). This change will only impact individuals who access WiscVPN, no other virtual private networks on campus will be affected.
More information on MFA-Duo: MFA-Duo Overview
More information on WiscVPN: WiscVPN (uwmadison.vpn.wisc.edu) - Getting Started
This upgrade is part of the mandated security processes from UW System President Tommy Thompson and helps protect WiscVPN against user credential theft.
The new login process will be similar to the current MFA authentication options. You will be able to authenticate with Duo by entering your 6-digit passcode or by entering the number "1" to send a push request to your smartphone. The new login page is shown in the image below.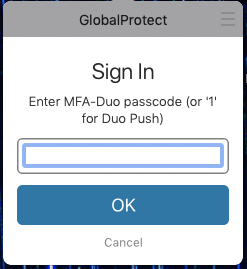 If you have any questions or feedback, please share them via our Google feedback form.
—Jeanne Skul, DoIT network services director
-- DoIT Help Desk: Dana Gerber-Margie
Created: 16:35:49, Monday, Aug 16, 2021 (by Dana G.)
Updated: 16:35:49, Monday, Aug 16, 2021 (by Dana G.)