Office 365 (iOS) - Configure the native email/calendar app for iPhone or iPad
Best Effort Support Only

This document contains instructions on using a non-Microsoft email client, such as Apple Mail or Thunderbird. Microsoft does not recommend these clients for use with Office 365, and there are often significant limitations in client functionality as a result.

Because of this, the DoIT Help Desk is only able to offer best effort support for these clients, and certain issues may require the use of a Microsoft client in order to be resolved. For more information on Office 365 client support, please see: Office 365 - Which clients/protocols will be supported?.
IMPORTANT:

Microsoft just released a version of Outlook which will work with UW-Madison's implementation of Office 365. This application is fully supported by Microsoft. Office 365 team recommends that all users install/use this application instead of the native iOS mail/calendaring clients.
This document explains how to connect to the Office 365 service using an iOS device. Screenshots were originally taken on an iOS 7 device. Steps should still be similar for iOS 8 & 6.
Important: Mobile devices, when configured for your Office 365 account via Exchange/ActiveSync protocol can be remotely wiped. After reading the information within the remote wipe document, if you have decided that you do not want to configure your device using Exchange/Active Sync protocol, you do have the option to connect via IMAP. If connected via IMAP, you will only have access to you email.
---
---
Configure iPhone/iPad/iPod for Office 365
Open Settings.
Select Mail, Contacts, Calendars, then select Add Account near the top of the right-hand column.

Select Exchange.

On the account setup window, enter the following for each field:

Email: -

NetID Account: Enter the primary address of your NetID account which will take one of the following forms: netid@wisc.edu or first.lastname@wisc.edu or name@domain.wisc.edu
Service Account: Enter the primary address of your Service account which will take one of the following forms: name@domain.wisc.edu

Note: if you don't know whether you are attempting to configuring a NetID account or a Service account, please contact your domain administrator or the DoIT HelpDesk.

Password: Enter the password for the account being configured.
Description: Give the account any name you'd like, such as Office 365.

Select Next.
Enter the following information (Email and Description should have auto-filled with the previously supplied information):
Server: outlook.office365.com
Username:

NetID Account: Enter netid@wisc.edu.
Service Account: Enter name_domain@wisc.edu.


For multi-level domains, name@domain1.domain2.wisc.edu, use the following format: name_domain1.domain2@wisc.edu.

Password: Enter the password for your account being configured.
Click Done/Next.
You'll be directed to the enabled account applications page now. Choose what you'd like enabled. It is recommended that you enable all services.
Select Save.
Select the new account from your list of accounts. It will be listed according to the description you chose for it.
Select Mail Days to Sync and set it to No Limit if you would like all of the mail in your inbox to be synced to your device. The default time period is one week. Note: the more mail that is synced, the longer it may take to get all your messages on to the device.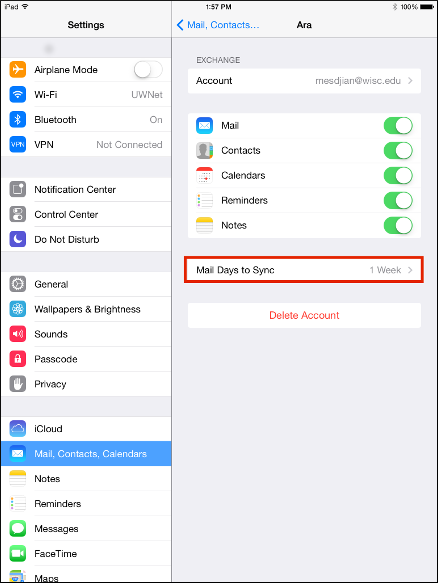 Setup is complete. Email and calendar data (if enabled) are available in the appropriate apps.
Note: If your original WiscMail/WiscMail Plus account was configured on this device, use the following instructions to remove the account: iOS 8/7 - Removing an email/calendar account.
Configure Access to the Campus Directory (Whitepages)
Remember: the Global Address List (GAL) will only contain Office 365 accounts. Therefore, you may still need access to the Campus Directory (Whitepages) to find the person you are searching for.
Use these iPhone/iPod - instructions or iPad - instructions to configure the Campus Directory (Whitepages) within this client.
See Also: