Quotas in Qualtrics
How to set quotas to close a survey after a set number of responses has been reached. CFYE has used this function to allow people to RSVP to meals after the caterers have been sent the final count.
Go to Qualtrics and login
Click the Create Survey icon if building a new survey or select the Edit icon for an existing survey
On the Edit Survey tab click on the Advanced Options drop down menu at the right of the screen
From the Advanced Options menu select Quotas...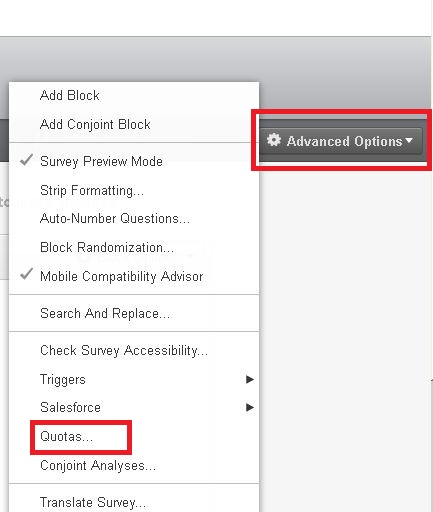 The Quota worksheet will open, click on the Add A Quota hyperlink or the + Add Quota radio button. This is the screen where you set your quota(s)

The left side of the screen is where you set the number:
Edit the denominator to the number you want to set as your limit for the survey
Numerator can be edited by clicking the Set Count hyperlink below the number


Existing Survey: If you are adding a quota to a survey that already has respondents change the numerator to the number of people who have already replied to the question in the way you want calculated in the quota (i.e. if your survey has 40 respondents, but only 36 said they are planning to attend the event, set numerator to 36).

New Survey: Edit the numerator with the number of guests need to be calculated into the meal count but will not be completing the survey (i.e. staff for the event, invited speakers, table hosts, etc.)

The right side is where you tell the survey which respondents should be calculated in the quota
For limiting the number of RSVP's for a meal, select the question in your survey that asks if the survey respondent is attending the event and set the condition to if their answer is Yes
See Also: