Printing SOAR Name Badges
How to print SOAR Name Badges
Printing Name Badges for an entire session
Ensure that the Small Group assignments have been completed. If you're not sure, talk to a Programming Intern.
Navigate to https://reservations.soar.wisc.edu/Admin/Report/GenerateNameBadgesReport. You can an also go to the SOAR Admin Portal > Soar Reports > Name Badges as shown below.
Select the session in the bottom left box
Click the "SEARCH RECORDS" button. The bottom of the webpage should load in a list of names. Make sure that all students have a Small Group assignment.
Click "Select All" in the bottom right, above the list of names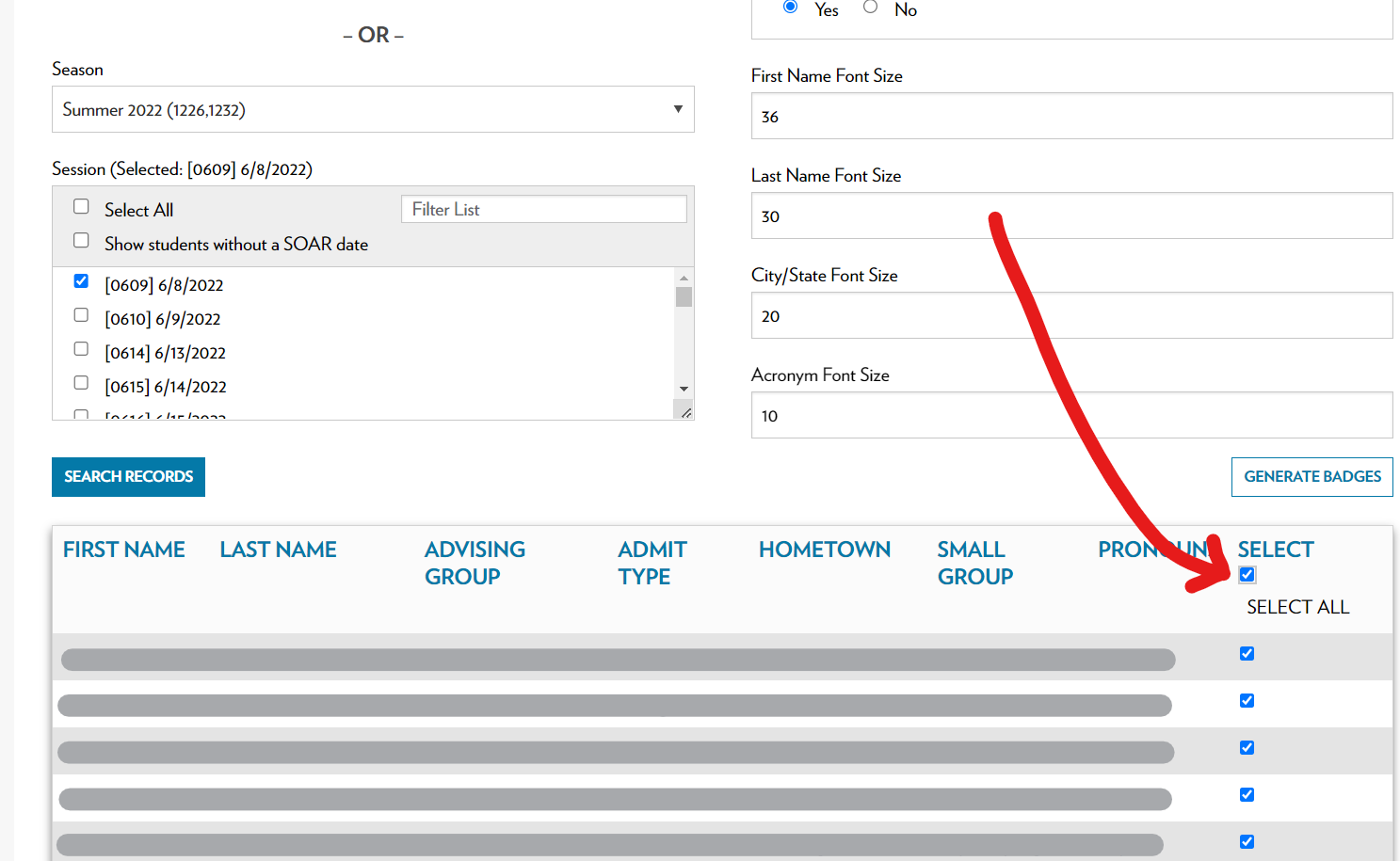 Set the First Name size to 28, Last Name to 24, City/State to 20, Acronym to 10, as a start
Click the "Generate badges" button, right above the "Select All" button (see previous image)
Click the NameBadges pdf that's appeared in the bottom left corner.
Here is an example name badge sheet. Note that there are only 6 boxes that things will be printed in. The hashmarked area will be snapped off after printing, leaving 3 name badges. Each badge will need to be folded in half along the vertical green line.
Set the preview size a percentage that makes the PDF width equal to the width of the paper. Hold up a name badge sheet to the screen, making sure that the shorter, black hashed sides are to the left and top. This makes everything line up, and you can roughly ensure that no information will be cut off. If a name extends to the Badge next to it, change the font size. Example image:
Put the right paper in the printer. Make sure the orientation matches the picture below. This step is only valid for the printer in Middleton, the printers at Union South require a different orientation.
Print 1 test page to the Officejet Pro 8620 (the Middleton colour printer). Verify that all information fits on one badge and isn't too hard to read. You may need to adjust the First Name size up or down.
Print all the badges! If the printer runs out of paper, refill it (check the orientation of the paper) and press "Okay" on the printer screen.
Reprinting Specific Name Badges
Follow all steps up to and including the "SEARCH RECORDS" step.
Once you've selected a Session, select the check-boxes of only the names you must reprint
Change the font sizes appropriately so that the first and last name will fit on the badge.
Download the PDF as normal.