Guide: Content Requirements by Tab
Overview of types of content found on each tab or section for graduate program pages in Guide.
Graduate programs must follow these guidelines when developing and editing their Guide pages. Note that the specific sections (called "tabs") on each page will vary by program type and will be pre-selected for your program type in Lumen tools. If you do not see an expected tab, contact the Graduate School's Academic Planning PA.
The most important thing to remember is that each tab must have some kind of content added to it in order for it to show up in the navigational bar on a Guide page.
Please do not include content in excess of these guidelines that could be changed by parties external to your department. For example, do not mention the cost of the Graduate School admissions application fee.
For information on deadlines and shared governance approval requirements by section/tab, see Guide: Updating Principles by Tab.
Additional information for the June 1 publication, including details about governed versus non-governed content, can also be found on Guide: Editing for the Fall 2021 (June 1, 2021) edition.
---
Photos
Guide pages may have a photo that appears on the top of each tab as well as in the thumbnail tile on the Degrees/Majors index page (note: Named Option pages do not have photos). The photo should meet the following requirements:
landscape orientation
high resolution (i.e., is not pixelated at 100% view)
possible to crop to 960 pixels wide x 420 pixels tall without losing significant content (but please do not crop the photo yourself)
colorful and interesting to view
Overview
For Degrees/Majors/Minors/Certificates
At minimum, there must be some kind of content on this page. Content is at the discretion of the program.
For Named Options
To ensure that students understand the name of the major, the first sentence must say: "This is a named option in the [Major Name with link to that Guide page]."
Content after that sentence is at the discretion of the program.
Admissions
The following Graduate School "shared content" will appear at the top of each admissions page:
Below the shared content is a table. Information on what can be in the table can be found here.
At the discretion of each program, additional content may be added below the table as long as it does not duplicate the information in the table.
Funding
All graduate degree major/option pages' Funding tabs in Guide begin with the Graduate School's shared content:
Content after this is at the discretion of the program, though we recommend you precede it with the Level 2 header of "Program Resources" or "Program Information." Level 2 headers look the same as the "Graduate School Resources" header of the shared content shown in the image above.
131 programs often note funding policies unique to their program structure on this page (e.g., tuition-remitting assistantships). The Graduate School shared content on funding (above) will remain for all programs, including 131, as students may benefit from learning about sources of funding beyond assistantships.
Requirements
A small sub-menu will appear at the top of every Requirements page that points to all Header 2's on the page.
Below the sub-menu is the Graduate School shared content:
Next there is a series of tables, toggles, and descriptive content under a Header 2 called "Major Requirements" or, if the page is for a named option, "Named Option Requirements." The following are examples of what these elements might look like. Special guidance for each element is noted beneath it whenever applicable.
Mode of Instruction Table
This table will appear for major pages but not for the parent pages of named options. It appears on all named option pages.
The Mode of Instruction table must be accurately completed by the program. Content under the expanded toggle of "Mode of Instruction Definitions" is Graduate School shared content, and not editable.
Curricular Requirements Table
If the program is doctoral, the Curricular Requirements table will also have a line for "Doctoral Minor/Breadth Requirements."
All rows must be filled in with an actual policy or credit amount. Please do not write "Contact the program for information about this policy," as Guide should serve as the official source for program policy and requirements.
Required Courses Section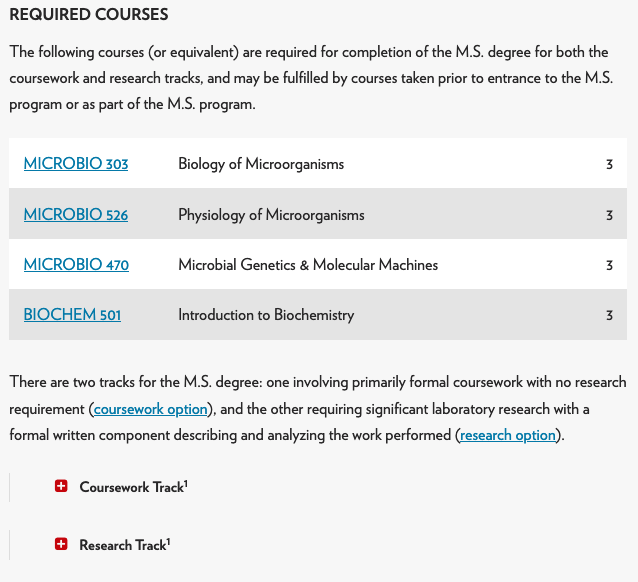 The Required Courses section should list all of the remaining course requirements. Typically this is a list of courses in the Course List format (see here for help on building a Course List). As much as possible, your Course List should include every course needed for completion of the major.
Ideally, the amount of credits in this list will add up to the Minimum Credit Requirement. If the "Sum Hours" box, when checked, yields a range of credits, manually enter a Total Credits header as a comment entry and add the minimum credit requirement there.
When building the course list, if instructing students to select a course/number of credits or a range of courses/number of credits from a list below, best practice is to include the total credit amount in the header of that section and indent all the courses below the header.
Additional elements may be brought in as needed to display this information in an effective format (e.g., "Coursework Track" and "Research Track" toggles in image above) after the table.
Named Options (Sub-Majors)
If the degree/major has named options, underneath the Required Courses table will be a Named Options (Sub-Majors) Header 2 with the following language (substituting your degree credential type and name):
This is followed by links to the Named Options pages.
Policies
Graduate School shared content will begin the page:
This is followed by a Header 2, "Major-Specific Policies" or, if this is a named option page, "Named Option-Specific Policies." Within this section is a toggle-list of the following headers, with Prior Coursework containing subheaders. The headers and subheaders should remain as-is (i.e., please do not delete any of headers or subheaders, or add new headers or subheaders):
Each of these header sub-sections should contain the specific, relevant policy for your program. In the case of named options, there will only be links to the named options' pages. Please do not write "Contact the program for information about this policy," as Guide should serve as the official source for program policy and requirements.
Prior Coursework
Programs should describe how they handle prior coursework from the following three categories (included as subheaders):
Graduate Work from Other Institutions
UW-Madison Undergraduate
UW-Madison University Special
Descriptions should coincide with (and may reference) Graduate School academic policy on prior coursework found here.
Probation
Program-specific policy on probation may be included here. If none exists, provide reference to Graduate School policy on probation found here.
Advisor/Committee
Include program-specific policy, procedures, and/or guidance about the advisor and/or committee structure and roles.
Credits Per Term Allowed
Provide the number of credits your program allows per term.
Time Constraints
At minimum, Graduate School policy on time limits (found here) should be referenced. Program-specific policy may also be integrated into this section, when applicable.
Grievances and Appeals
This section begins with shared content from the Graduate School:
Program- or school/college-specific policy is required after the shared content, and must follow guidance and procedures on the Grievance Policies in Guide KB page.
Other
Policy in this section is optional. If there is none, write "n/a."
Professional Development
Every page will begin with shared content from the Graduate School:
Additional content below the shared content is at the discretion of the program, though it should start with a Header 2 (styled just like "Graduate School Resources" in the image above) called "Program Resources" for consistency with other degree pages.
Learning Outcomes
This is a list of approved learning outcomes for the degree/major. Named Option pages do not have separate learning outcomes from the degree/major.
Learning Outcomes and the process to update them are owned by the Provost's Office. Questions about the format and updating of this content can be directed to Regina Lowery.
People
This is a list of faculty and others who work in the department. The format of this page is at the discretion of the program, though links to individual faculty profiles are strongly discouraged as the URLs break easily and will not be updated "at any time." If you must, a link to an index page of faculty profiles on your own program's website may be included.
Accreditation/Certification/Licensure
In addition to university accreditation, some programs will have their own accreditations, certifications, and licensures, detailed in this section.
This section is owned by the Provost's Office. Questions about the format and updating of this content can be directed to Karen Mittelstadt.
Contact Information Box
Programs should follow this guide for the content and format of this side box:
It is okay to have more than these 4-5 entries in this box (at the discretion of each program), but the first entry always needs to be the Department and College with URL, and the last entry always needs to be the Graduate School website.
Simple URLs (e.g., without "http://") and/or hyperlinked text should be displayed whenever possible.
131 programs may also utilize a marketing link prepared by DCS which sends interested applicants to the Salesforce portal:
---
Questions about this guidance may be directed to Emily Reynolds in the Graduate School.