Health-System Administration and Leadership Residency
The combined Master's degree and residency in Health System Pharmacy Administration and Leadership at UW Health is designed to provide the resident with a solid background in academics and the administration of exemplary pharmaceutical services across an integrated health system.
Residency Program Details
Meet Our Residents
Meet Our Pharmacists
---
2023-24 Recruitment Opportunities
---
Residency Program Director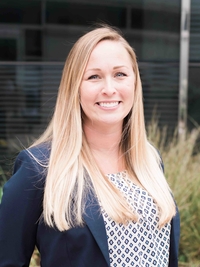 Meghann Voegeli
Meghann Voegeli is the Director of Inpatient Pharmacy Operations and Pediatric Services at UW Health and Clinical Instructor at the UW School of Pharmacy. Meghann is also the program director for the Health-System Pharmacy Administration and Leadership Residency and Master Program at UW Health. Meghann received her Bachelor's degree from UW-Stevens Point and PharmD and Master's degrees from UW-Madison. She completed her residency training in Health System Pharmacy Administration at UW Health.
Meghann is actively involved in several professional organizations including American Society of Health-System Pharmacists (ASHP), Pharmacy Society of Wisconsin (PSW), and Vizient.
Meghann's professional interests include leadership development, operational efficiency, automation and technology, quality improvement, medication safety, workforce training and development.
Contact Information
Meghann Voegeli, Pharm.D., M.S.
Director, Inpatient Pharmacy Operations and Pediatric Services
UW Health Department of Pharmacy
600 Highland Avenue, Madison, WI 53792
(608) 263-1290 | MVoegeli@uwhealth.org